'Holiday' is such a word which is enough to bring a big smile on someone's face. Whether children or an adult, everyone eagerly waits for it. In our Childhood, summer vacation was the golden moment of the year. The happier this word is, the more enjoyable it is to read about it. Let's have that enjoy through the sets of 10 lines below.
Ten Lines on Holiday in English
10 lines, 5 lines, 20 lines, few lines and sentences on Holiday are given below in the form of few sets for the students of Class 1, 2, 3, 4, 5 and 6 in very easy language. Just go through them and get your needed one:
10 Lines on Holiday
1) Holidays are the days when everyone likes to relax and enjoy.
2) It is the time when we get along with our friends and family.
3) On shorter holidays people like to relax at home spending time taking up their hobbies.
4) Longer holidays are the times when most of the people visit their relatives and travel to many places.
5) There are many agencies which help in planning holidays and also completely manage it at a reasonable cost.
6) Children mostly like to visit hill stations during summer vacations to avoid the scorching heat.
7) Kashmir and Leh are the much-celebrated holiday destinations for the youngsters.
8) Holidays not only help to relax our mind and body but also help us in discovering new people and places.
9) Holidays are the medium through which children learn to respect their elders when they meet them more often.
10) Holidays not only relax us but replenish our energy to perform better in our job.
10 Lines and Sentences on Holiday
1) The holiday is the break we get from our daily routine work, be it educational or professional.
2) It is the much-desired break when we can work on our hobbies.
3) It is a way to balance professional and personal life.
4) Too much of work without any breaks makes our mind and body tired, decreasing our efficiency.
5) As rightly said that "All work and no play make Jack a dull boy".
6) Holidays are the time when families organize to get together and know each other better.
7) A timely break reboots yourself and makes you ready for future challenges.
8) Holidays are the time which we spend with our loved ones and value their importance in our life.
9) Festivals are the time when we celebrate our holidays with our friends and family with lots of joy and happiness.
10) Holidays are the time of introspection, which helps in generating our creativity.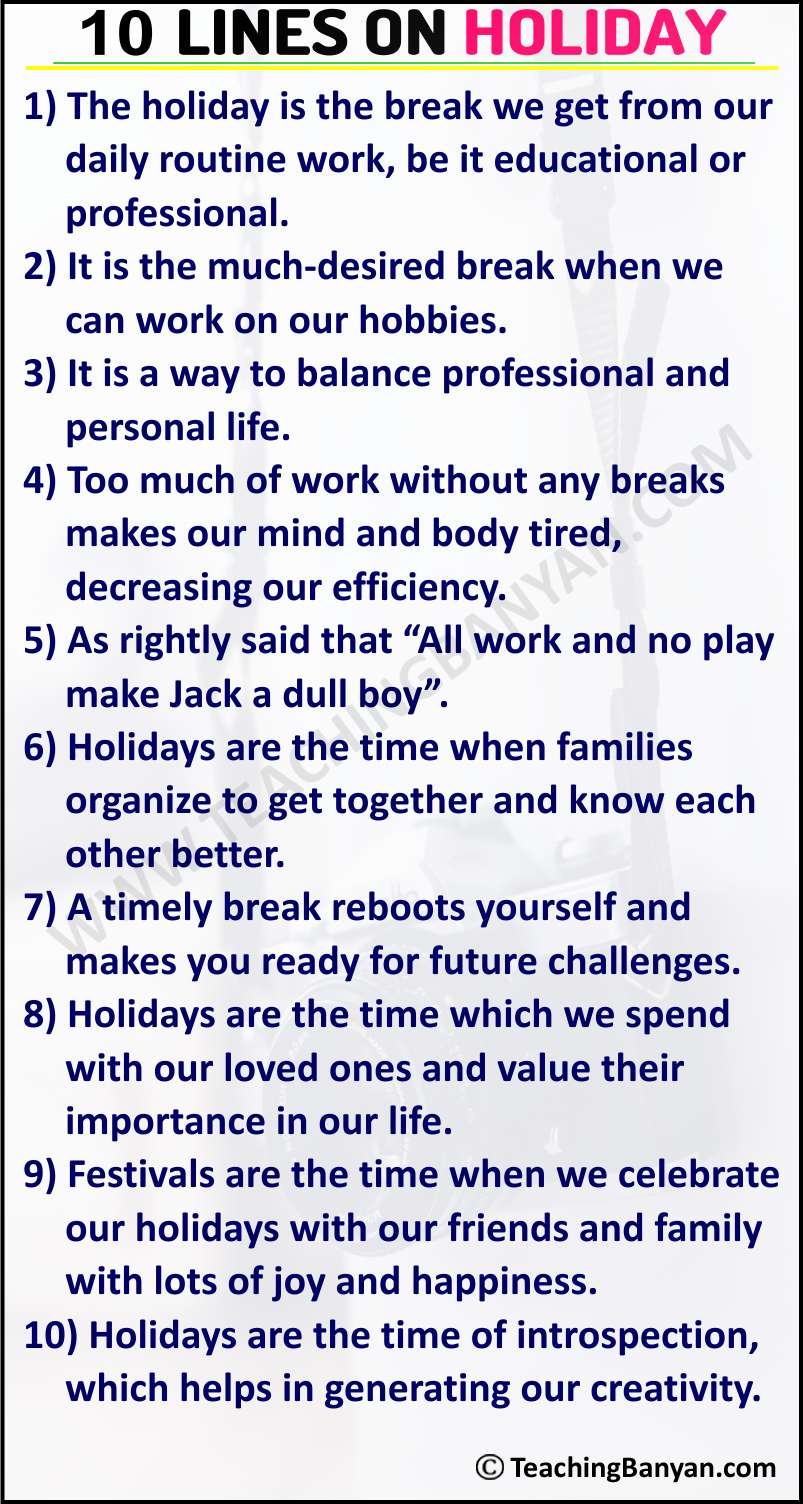 5 Lines on Holiday
1) Holiday provides a break from work.
2) Holidays help enjoy life.
3) There are several holidays occurring every year.
4) On holidays we go for a picnic.
5) Holidays work as a bridge in work-life relations.
20 Lines on Holiday
1) Holidays refresh one to work with more dedication and creativity.
2) We can use holidays for social activities related to education, health etc.
3) Working professionals have the option of cutting short their holidays to work in the office.
4) There are also national holidays, religious holidays and vocational holidays.
5) The national holiday is a way to commemorate the nation and its integrity.
6) Some people like to spend their holiday at home, just sitting back and relaxing.
7) Private employers and institutions have the right to declare holiday on a particular day.
8) World Monkey Day is an unofficial holiday to celebrate monkeys and other primates.
9) A holiday is also helpful in promoting sports activities like swimming, cricket, etc.
10) One must always try to spend the holidays in productive and fruitful activities.
11) On holidays, we get a proper time to spend with our family.
12) Holiday could range from a single day to many days.
13) Sunday is the most recognized weekly holiday all over the world.
14) A holiday is for fun and recreational activity.
15) Schools have longer duration summer and winter holidays of more than a month.
16) Either an employer can provide a holiday or the employee can request for it.
17) The holiday allows spending time with family and friends.
18) One can spend a holiday by pursuing one's hobbies and other activities.
19) We must utilize our holidays productively, doing good things.
20) A holiday is also a good time for reading books, playing or chatting with family and friends.
The holiday is the most pleasing day that everyone looks forward to very eagerly. No one can deny the fact that he does like holidays. But we should keep in mind that our holiday should end with some productive works rather than the useless works or time pass.