Our family protects and guides us every time. It provides us with the best advice, but what about when we are not with our family? It is a friend who plays the role of our family for us in its absence. He knows his responsibility and keeps us happy all the time. We all have a good friend in our life, and this is the time for us to have some information about a friend that we are going to have through the sets of 10 lines below.
Ten Lines on Friends in English
I have provided below some sets of 10 lines, 5 lines, 20 lines, few lines and sentences on Friends for Class 1, 2, 3, 4, 5 and 6. Also, I have given video and text images on Friends to help you more on the topic. You can read and select the one that is best for you:
10 Lines on Friends
1) Friends are the persons who share the same thinking and understanding with us.
2) She/he is the one who is always ready to help us in any situation.
3) "A friend in need is a friend indeed" is a proverb which signifies the importance of true friendship.
4) A good friend will always give you good advice and stop you from going in the wrong direction.
5) Friends share a true bond of trust, love and care, which lasts for a lifetime.
6) Friends are generally of same age groups, and they understand each other in a better way.
7) True friendship is a selfless bond between two individuals with mutual trust.
8) Friends help you to forget your grief and pull you out of any depression.
9) True friends praise in public and criticize in private to help you undergo positive change.
10) Friends are the gifts of god who are not your family but also not less than your family.
10 Lines and Sentences on Friends
1) Friends are the gifts of god who support us whenever we tend to fall in our lives.
2) A true friend is always ready for sacrifices for the sake of the happiness of his friend.
3) True friendship stands on the terms of mutual help and understanding.
4) Friends may be good and bad both, but it depends on our instinct, which we choose.
5) A bad friend will pull you in his darkness, whereas a good friend always helps you to come out of the darkness.
6) True friendship doesn't discriminate between poor and rich; Friendship of Krishna and Sudama is the best example.
7) Many time you don't have your family to support you, but your bunch of good friends will always fill that void.
8) Friends with selfish motives are not worthy of trust because they are the one who will leave you first in your bad times.
9) Whatever be your financial conditions or status in the society, with friends you tend to be real you without any show-offs.
10) You can't choose your family, but you can choose your friends, so choose them wisely.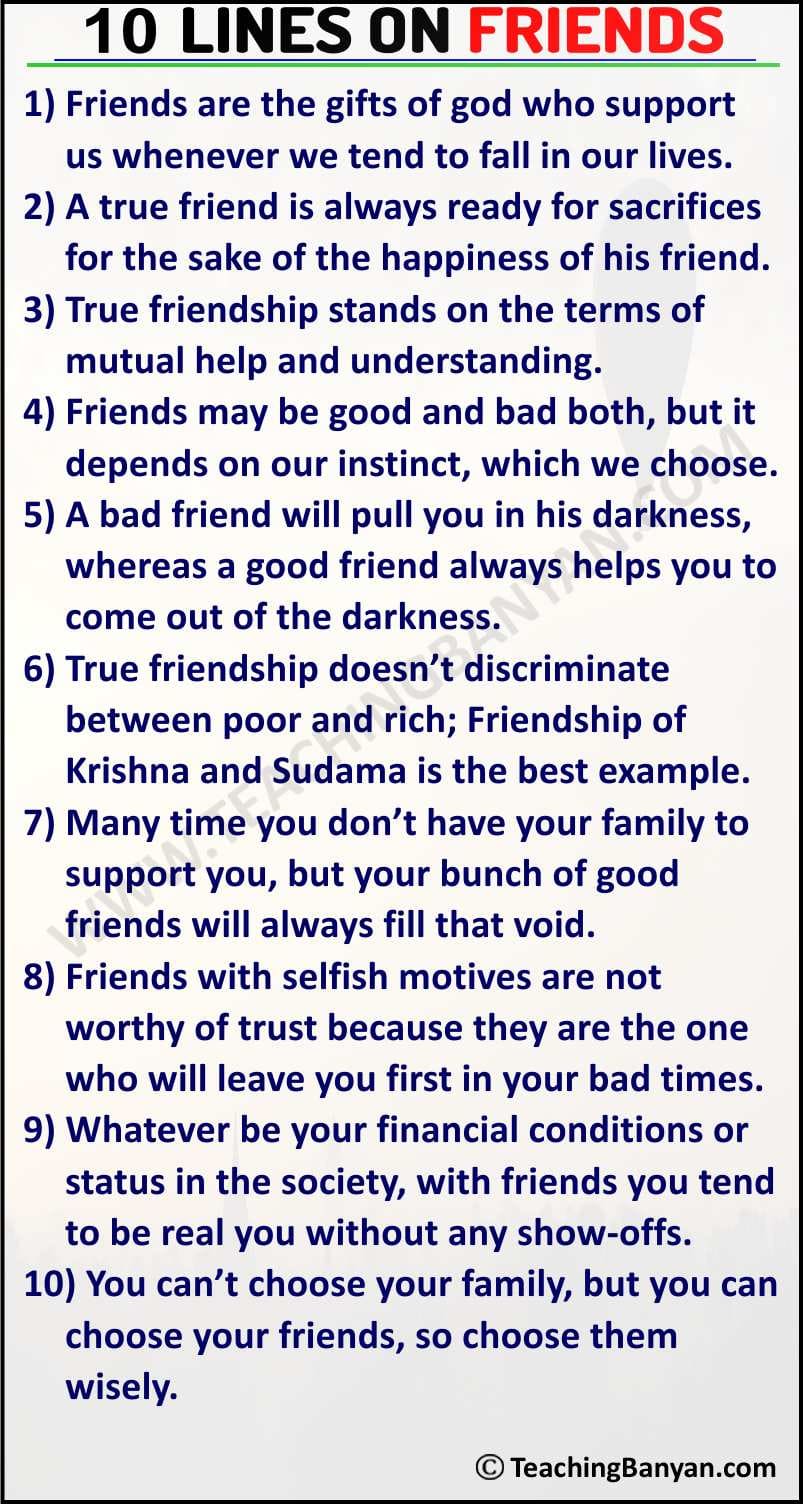 5 Lines on Friends
1) A true friend never leaves us alone.
2) We can share everything with our friends.
3) Friends help us to fight difficult situations.
4) They help us to make the right decisions.
5) Friends are necessary for living a happy life.
20 Lines on Friends
1) Friends always care for each other and also respect one another's mutual privacy.
2) Friends never leave your side and are most likely to help you whenever you are in need.
3) When faced with tough times, those who have good friends have better chances to overcome.
4) In the company of good friends, one feels more secure, confident, happy and out of stress.
5) True friends often display the love, care and concern as true and real brothers.
6) Close friends often copy each other's behaviour and mannerism.
7) Friends always sense each other's mood and start a conversation accordingly.
8) True friends also never lie to each other neither for big things nor even for small things.
9) We must also learn to differentiate between true and fake friends and accordingly make relations.
10) We must also always stay loyal to our friends and support them in every circumstance.
11) Friends are the people we always want to be in the company of, whether in pain or sorrow.
12) Friends are also like guardians, much younger than our guardians.
13) We can share our problems with our friends when it is difficult to share it with others.
14) In the company of good friends, one can never be short of good and honest advice.
15) Good friends always give you fair and true advises, whether you like it or not.
16) Friends always stay together in sorrow and happiness and always take care of each other.
17) Friends don't judge each other based on financial background, status, religion, caste or colour.
18) Good friends are always together, spending a good time and seldom alone.
19) Many species of animals are friends with exactly opposite other species.
20) Friends always trust each other in the most challenging of the situations.
Friends help you to share your heart out but keeping things secrete. Friends are the best gift of god because they are the one who will never leave you alone in your bad times. It takes some time to find a true friend, but the time is worth because they are rare and if you find a true friend, you are the luckiest one. True friendship is a plant which nurtures in the soil of love with the water of care and sunlight of trust, leading to becoming a tree of happiness for a lifetime.