Onam is the official state festival of Kerala and is a major event for the residents as well as for the people who are outside Kerala. Onam is a harvest festival and one of the three major celebrations among the Hindus of south India.
The celebration of Onam starts from the first day of Malayalam New Year which continues for ten days. Major series of festivals take place in all the 30 cities of Kerala with full zeal and zest across the Malayalam communities. On the occasion of Onam, the state government declares public holiday which starts from 'Uthradom' i.e. Onam eve in Kerala.
Ten Lines on Onam Festival in English
We have provided 10 lines, 5 lines, 20 lines, few lines and sentences on Onam Festival in English for Class 1, 2, 3, 4, 5 and 6. You can use these lines in your assignments, essays or paragraphs writing in your exam or any competition. It will help you to know about Onam Festival in detail.
10 Lines on Onam
1) Onam is one of the most famous and cultural festivals which is celebrated every year in Kerala.
2) It is the festival where people enjoy four days holiday approved by state.
3) Onam is celebrated with great enthusiasm and major celebrations takes place in whole of Kerala.
4) Onam is the symbol of Malayalam culture and tradition and is also celebrated as tourism week.
5) Onam was originated from Sanskrit word 'Shravanam' which is one of the 27 nakshatras.
6) Celebration of Onam in southern India is believed to be the nakshatra of Lord Vishnu.
7) Onam is celebrated to commemorate 'Lord Vamana', an incarnation of Lord Vishnu.
8) Another reason for celebrating Onam is as the day of homecoming of 'King Mahabali'.
9) Onam celebration is full of folk dance, music, high power games, boatings etc.
10) A huge crowd of domestic as well as foreign tourists comes to Kerala to witness the Onam celebrations.
10 Lines and Sentences on Onam
1) Onam is an annual holiday as well as a long duration festival which is observed in Kerala, celebrated to commemorate 'King Mahabali'.
2) According to Malayalam calendar, Onam is celebrated in the month of 'Chingam' and as per Gregorian calendar it is celebrated in August-September.
3) It is celebrated by the people of Kerala as they believe that this is the occasion of home coming of 'King Mahabali' the grandson of 'Prahalad'.
4) Another story behind Onam is that it is the day when 'Lord Parasuraman' saved Kerala by throwing his battle axe from Gokarnam to Kanyakumari.
5) Onam celebration starts from the first day of Malayalam New Year and continues till last ten days with lots of ritual and traditional activities taking place.
6) Ten days of harvest festival is celebrated with a grand royal parade which shows the culture of Kerala with 50 floats and 100 tableaus.
7) 'Vamanamoorthy Thrikkakara' temple in Kochi becomes the centre of celebration and is considered as the ancient capital of Mahabali and dedicated to Lord Vamana.
8) People wear new clothes on Onam and consider the prosperous and truthful life of the people during King Mahabali's regime.
9) People decorate floral carpet known as 'Onapookalam' which is made up of several types of flowers and also make Rangolis of different colours.
10) People get prepared for their traditional dance forms throughout celebration especially women perform 'Thiruvathirakali' by making circle around a lamp.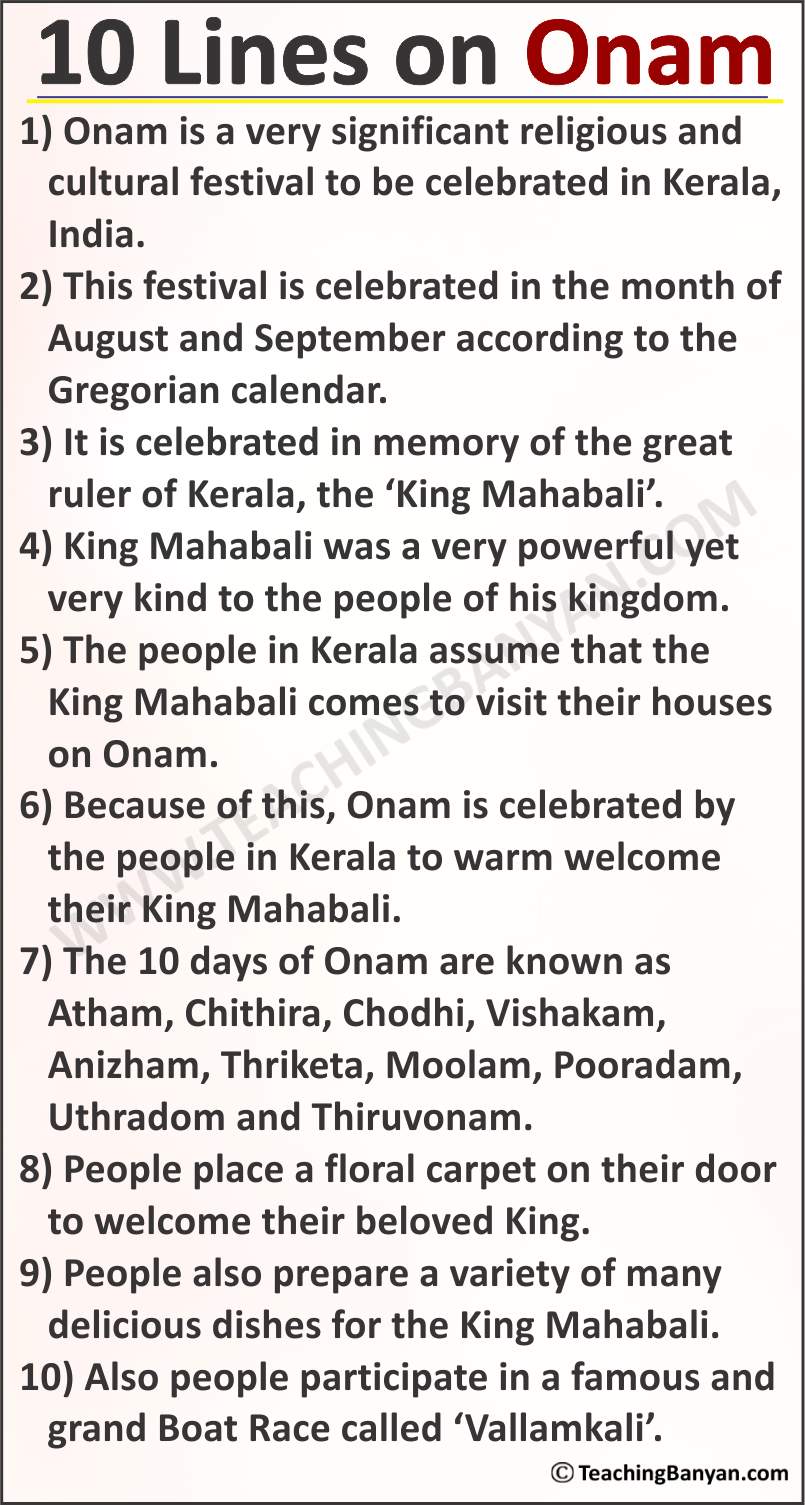 5 Lines on Onam
1) It is a famous festival in Kerala.
2) It is a harvest festival celebrated with great joy.
3) It can fall in August or September.
4) Onam is celebrated for 10 days.
5) Boat racing is organized at this festival.
20 Lines on Onam
1) Onam is a very significant religious and cultural festival to be celebrated in Kerala, India.
2) This festival is celebrated in the month of August and September according to the Gregorian calendar.
3) It is celebrated in memory of the great ruler of Kerala, the 'King Mahabali'.
4) King Mahabali was a very powerful yet very kind to the people of his kingdom.
5) The people in Kerala assume that the King Mahabali comes to visit their houses on Onam.
6) Because of this, Onam is celebrated by the people in Kerala to warm welcome their King Mahabali.
7) The 10 days of Onam are known as Atham, Chithira, Chodhi, Vishakam, Anizham, Thriketa, Moolam, Pooradam, Uthradom and Thiruvonam.
8) People place a floral carpet on their door to welcome their beloved King.
9) People also prepare a variety of many delicious dishes for the King Mahabali.
10) Also people participate in a famous and grand Boat Race called 'Vallamkali'.
11) Onam is also called the annual harvest festival in Kerala.
12) It is a Hindu festival which is celebrated continuously for 10 days.
13) Boat racing, Music, Dance, Fireworks and lots more activities are done by the people to mark the celebration.
14) Muslims and Christians of Kerala also participate in the celebration of Onam.
15) Onam is said to be celebrated in the month of 'Chingam', the first month of Malyalam calendar.
16) People celebrate these 10 days with boat races, cultural programs, sports competitions, dance events, Martial arts and many other activities.
17) Women in Kerala specially wear 'Kerala Sari' on this festival.
18) During the festival, people in Kerala also set a statue of Vishnu as 'Vaman Avatar, in their houses.
19) There are also conducted Ox-race, Food-eating competition etc in different parts of Kerala.
20) The celebrations of Onam are also marked in the United Arab Emirates, Singapore and USA.
---
Onam is a great festival of Kerala which shows all its ecstasy, whether it is music, art, dance, clothing or the ways and pattern of celebration. Onam festival is celebrated since ancient times and still it continues in the modern times. Onam is also celebrated by the Christians of Kerala because they also believed that Onam is the part of their cultural identity. It is also a way of welcoming their benevolent King Mahabali to their home to bring happiness and prosperity.