Krishna Janmashtami is a festival which is dedicated to Lord Krishna, the eighth incarnation or avatar of Lord Vishnu. Among all his previous avatars, Lord Krishna was the avatar where he showed various 'Leela' or miraculous deeds. Born as the eighth son of Devaki and Vasudev in Mathura, he spent his first few years in the home of Nand Baba and Yashoda in Gokul.
In Gokul, he, along with Radha tried to spread the message about true love and affection. Lord Krishna established a complete city named as 'Dwarka' on the coasts of Gujarat and also helped the Pandavas to become victorious in Mahabharata against the Kauravas.
Ten Lines on Krishna Janmashtami in English
We have provided 10 lines, 5 lines, 20 lines, few lines and sentences on Krishna Janmashtami in English for Class 1, 2, 3, 4, 5 and 6. You can use these lines in your assignments, essays or paragraphs writing in your exam or any competition. It will help you to know about Krishna Janmashtami in detail.
10 Lines on Krishna Janmashtami
1) Krishna Janmashtami is a festival mostly celebrated by the Hindus every year.
2) It is celebrated as the birth anniversary of Lord Krishna.
3) Lord Krishna is considered as the 8th incarnation or avatar of Lord Vishnu.
4) Lord Krishna was born to protect the world from evils and remove all the difficulties.
5) He was born to play different roles of a teacher, mentor, lover, deity, friend etc.
6) Lord Krishna holds a flute in his hand and he wears a peacock feather on his head.
7) Krishna killed 'Kansa' the evil king of 'Mathura' and made devotees free from his atrocities.
8) Lord Krishna gave the supreme knowledge in the form of "Shrimad Bhagavad Gita".
9) On Krishna Janmashtami, the temples of Krishna are filled with devotees for worship and prayer.
10) Many people observe complete fast while some only rely on fruits on Krishna Janmashtami.
10 Lines and Sentences on Krishna Janmashtami
1) Krishna Janmashtami or popularly known as 'Gokul Ashtami' is a Hindu festival which is celebrated annually as birth anniversary of Lord Krishna.
2) Janmashtami is observed on the eighth day of the 'Bhadrapada' month of Hindu calendar and in August-September of the Gregorian calendar.
3) Janmashtami is a very important festival for the people who practice 'Vaishnavism''; lots of sadhus and sanyasis offer prayer on this day.
4) Lord Krishna was the eighth son of mother Devaki and father Vasudev and in order to hide from his maternal uncle 'Kansa', he was brought up at Gokul.
5) When Lord Krishna took birth, doors of the prisons were opened automatically, guards were slept and an 'Akashvaani' was made to save Krishna.
6) In Gokul, Lord Krishna along with his elder brother 'Balarama' were brought up by Nand baba and mother Yashoda till attaining his young age.
7) Lord Krishna became the charioteer of Arjuna's and gave him the eternal knowledge of 'Bhagavad Gita' before starting war of 'Mahabharata'.
8) On the occasion of Janmashtami, people either observe complete fast or eat food that doesn't contain garlic or onion.
9) People sing bhajans and perform kirtans and celebrate the birth of Lord Krishna at midnight.
10) Radha-Krishna temples are highly decorated with flowers, garlands and lightings and devotees offer prayers and seek blessings of their lord.
---
5 Lines on Krishna Janmashtami
1) It is the birthday of lord Krishna.
2) It falls on Ashtami of Krishna Paksha.
3)It is also known as Janmashtami and Gokulashtami.
4) Special events are held in Vrindavan and Mathura.
5) In many places MatkiPhodis organized.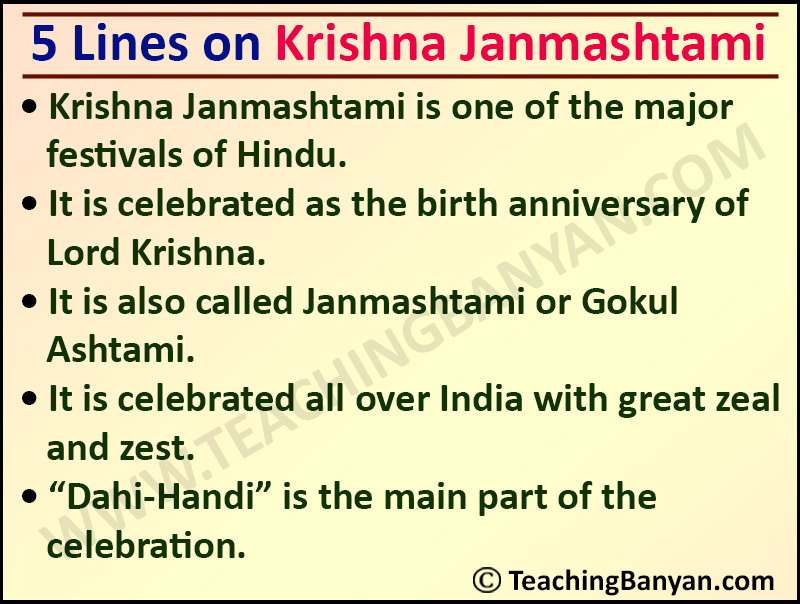 20 Lines on Krishna Janmashtami
1) According to the Hindu calendar, Krishna Janmashtami is celebrated on the eighth day of the Krishna Paksha of Bhadrapada month.
2) The birthday of Shri Krishna is celebrated as Shri Krishna Janmashtami.
3) Lord Shri Krishna is considered to be the eighth avatar of Lord Vishnu.
4) Devaki had given birth to Sri Krishna but he was raised by Mother Yashoda.
5) It is celebrated by the Hindus of not only India but of many other countries.
6) On this day, women, children, and old people all observe fast with joy to celebrate.
7) It is specially celebrated in Mathura and Vrindavan where Shri Krishna had spent his childhood.
8) Schools and colleges remain off this day and some institutions organize cultural programs.
9) Also Raas-Lila, short acts based on story of Shri Krishna, is played by children especially in Mathura.
10) People also celebrate by flying Kites, sharing sweets and singing songs of Shri Krishna.
11) Krishna Janmashtami is also called Janmashtami or Gokul Ashtami.
12) Janmashtami is one of the major festivals of Hindu and has special significance.
13) It falls in the month of August or September according to the Gregorian calendar.
14) "Dahi-Handi" is the main part of the celebration practiced all over India.
15) People make a human Pyramid and try to reach a clay vessel full of Curd and hung high.
16) Butter, Curd and milk made products were favourites of Sri Krishna and that is why Dahi-Handi is celebrated with zeal.
17) It is especially celebrated in Matura and Vrindavan where Lord Krishna had played and spent his childhood.
18) The people having fast on this day drink the Panchamrit at 12 o'clock in the night and thus end the fast.
19) Extremely spectacular festivals are celebrated in all the temples of Shri Krishna.
20) Sri Krishna has been the centre of our faith for ages.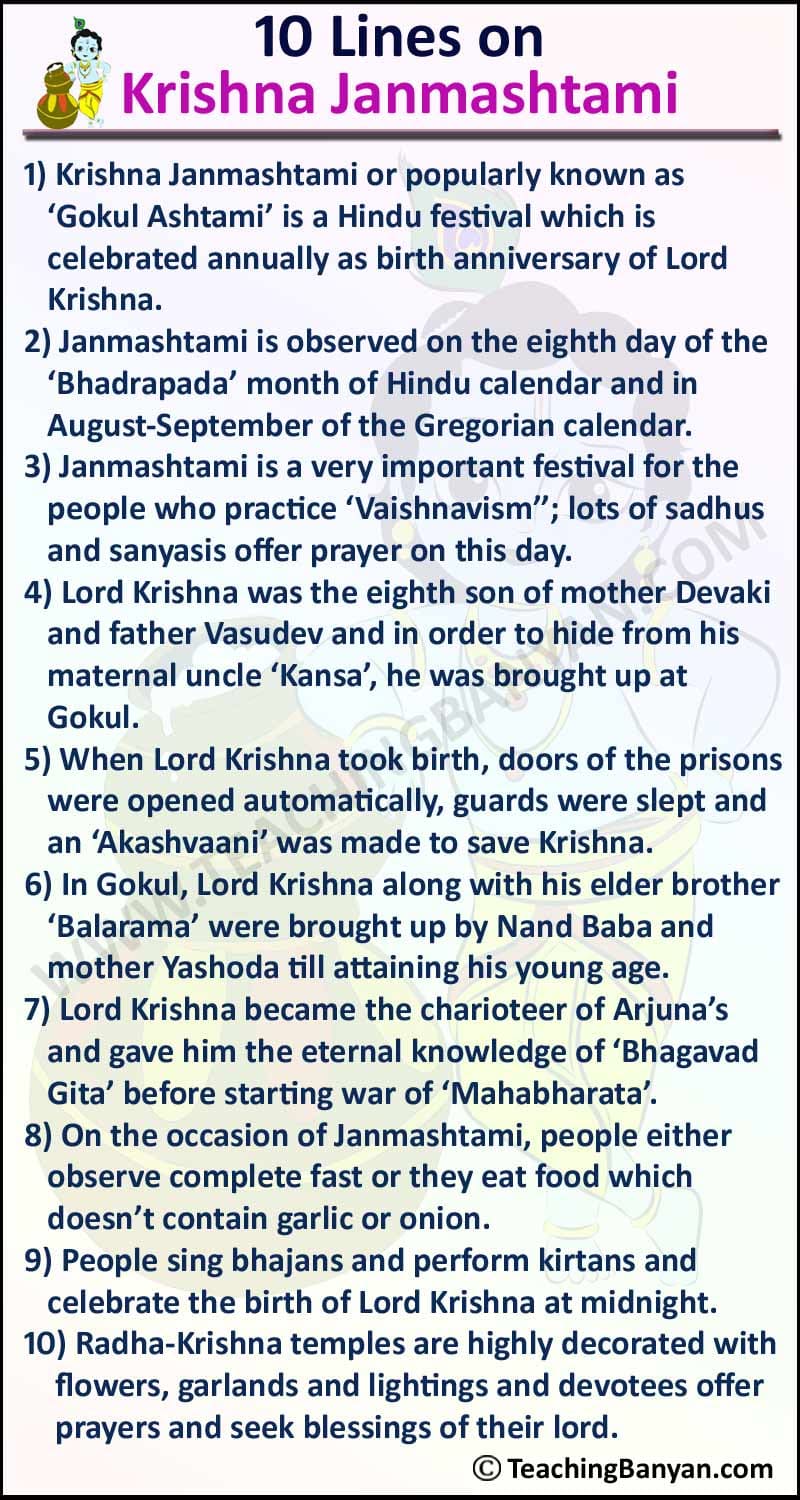 Krishna Janmashtami is celebrated all over India with great zeal and zest especially in Uttar Pradesh, Gujarat, Maharashtra, Bihar etc. In Maharashtra, people gather in a place for the 'Dahi-Handi' function. The Dahi Handi function is an event in which participants make a human pyramid and break the earthen pot hanged high between two poles. Participants of Dahi-Handi function are called as 'Govinda' and the winner of the competition is awarded with awards and monetary prizes ranging to thousands to lakhs.