Although many great personalities have been born in India, there have been a few of them who have changed the entire history through their works. One of them was great Kabir Das who discovered the arts of Hindi literature and put it in the way no one could have ever done. It is time for us to read about him through the sets of 10 lines on Kabir Das that we have created on for you below. Hope you will enjoy reading:
Ten Lines on Sant Kabir Das
Set – 1
1) Kabir Das was great literature of 15th century India.
2) There is no enough information available about his date and place of birth.
3) According to some sources, he was born around the 14th-15th century in Varanasi city of India.
4) He was born into a Muslim family.
5) He adopted Hinduism after the influence of his teacher Guru Ramanand.
6) He worked as a weaver to earn his livelihood.
7) Dhania was Kabir's wife.
8) Sadhukadi and Panchmel Khichdi were the languages of Kabir that he used in his literary works.
9) His most popular works are Sakhi, Sabad, and Ramaini.
10) He died in Magahar near Varanasi district where he had born.
Set – 2
1) Kabir Das was born in Lahartara near Varanasi.
2) Kabir Das considered Ramanand as his mentor, but Ramanand never considered him his disciple.
3) He was a saint, a poet, and a social reformer.
4) Kabir had a son Kamal and a daughter Kamali.
5) The language that Kabir used includes words from all the dialects of the Hindi language.
6) Kabir was illiterate but his compositions were of the highest order.
7) He was an ardent devotee of Lord Rama.
8) His compositions were against religion, hypocrisy, lies, and violence.
9) A glimpse of love can easily be seen in Kabir's couplets.
10)Kabir has openly opposed the fanatics spread in all religions.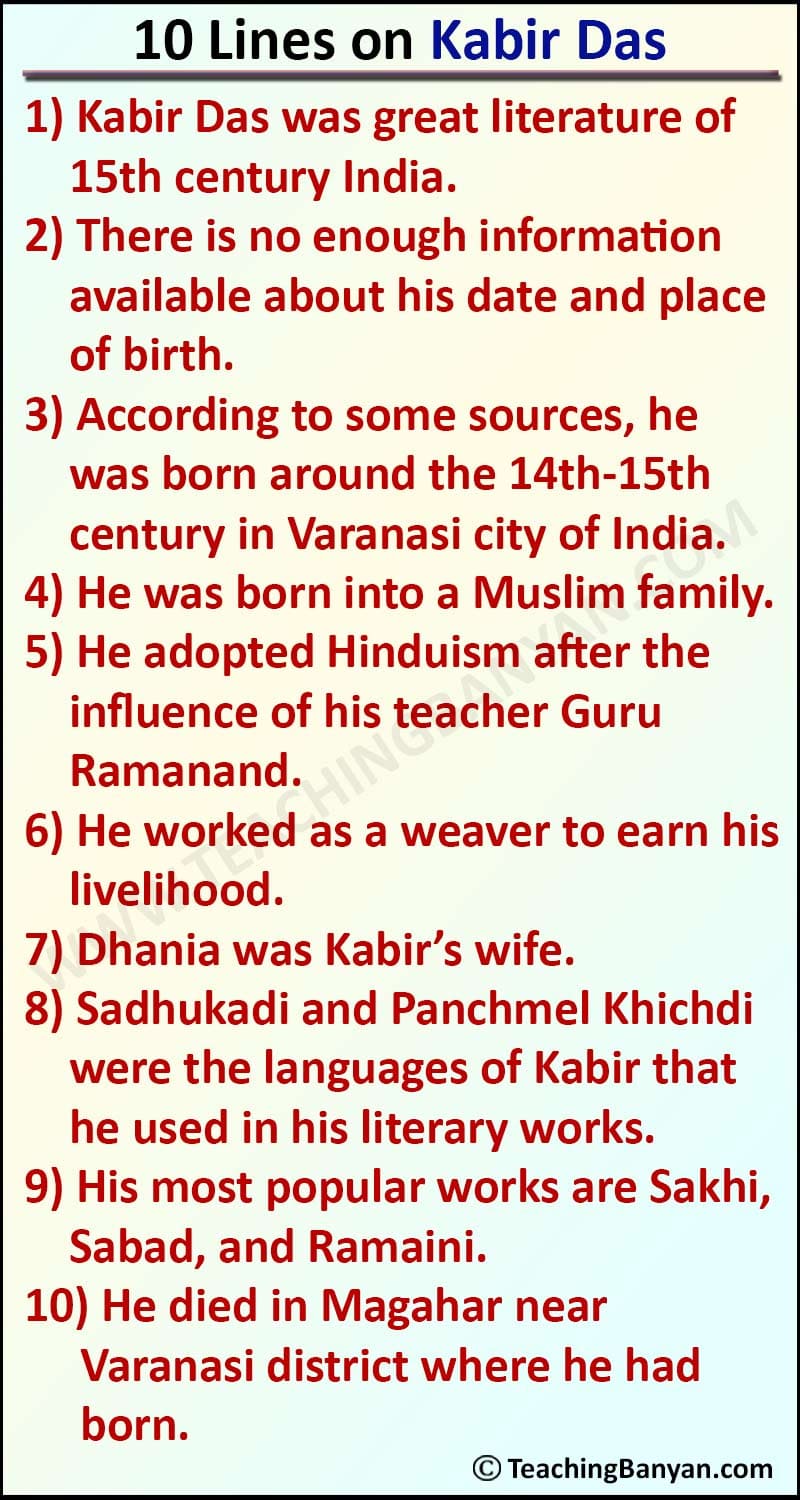 Though there have been many attempts by researches to find out the exact information about the life of Kabir Das, it all ended in a fiasco. Many people believe that he was a Muslim by birth, but they failed to prove it. Well, his skill in poetry and writing of couplets proves that he doesn't any religion to define his identity. Despite being illiterate, his literary works are taught in the class for basic and higher studies. Kabir Das was such a man who learned a lot but taught us more than that. He has made his place in the history of literature of the World.