Indian Army is the real protector of this country. As we all know that India is the land of courageous people where people don't hesitate to defend their country and sacrifice their life for the nation. Indian Army is also carrying this league of being friendly with the good ones and danger for the enemies.
Indian Army is one the defense forces which is respected and admired everywhere around the world for its courage and decency. Whole world have heard the thrilling stories of Indian Army's gallant and victories over its enemies which makes them to salute the Indian Army. Indian Army is the pride of India and the force which can be easily trusted by its citizens.
Ten Lines on Indian Army in English
We are providing 10 lines, 5 lines, 20 lines, few lines and sentences on Indian Army in English for Class 1, 2, 3, 4, 5 and 6. You can add these lines in your essay and paragraph writing in your exams as well as in the school competitions. So, let's start reading and getting the one best for you:
10 Lines on Indian Army
1) Indian defence forces are divided into three parts viz, Army, Navy and Air Force.
2) Everybody knows Indian Army as another name of courage.
3) Indian Army has a long and glorious history which is full of victories over enemies.
4) Indian Army is committed to save the country from land based attacks by enemy forces.
5) Indian Army is the helping hand of other agencies in various military operations.
6) It also rescues people from natural calamities occurring in any part of India.
7) Before independence, Indian Army had fought World War I under British rule.
8) After independence, Indian Army has fought many wars and has won most of them.
9) Be it Kashmir war, India-China conflict, India-Pakistan wars of 1965, 1971 or Kargil, Indian Army has always showcased its courage and patriotism.
10) Indian Army has its own intelligence unit called as 'Military Intelligence' or MI.
10 Lines and Sentences on Indian Army
1) Indian Army is one of the institutions of the country which is neutral and reliable, if something goes wrong then we see Indian Army as a solution.
2) Indian Army is the second largest in the world with approximately 1.23 million personnel are on active basis and 9.6 lakhs as reserve.
3) Indian Army is very big in size as well as in courage, bravery and gallant; it is divided into various divisions called as 'regiments'.
4) The main role of Indian Army is to protect the country from internal as well as any external threats which it had proved many times.
5) After independence, Indian Army has fought major wars with many countries and has also handled many smaller conflicts.
6) To commemorate the valour and sacrifice of Indian Army, 'Army Day' is celebrated on 15th January at India Gate, New Delhi.
7) Various activities like military parade, cultural programs, events etc are organised on Army Day at 'Amar Jawan Jyoti' near India Gate.
8) Indian Army is the uniting force which binds whole country in a single thread of patriotism as it has people from every religion and caste.
9) It is believed that everything can fail but Indian Army cannot, be it the courage and victories in war as well as handling internal conflicts.
10) Indian Army is one of the largest employers of India which hires youths from every section of the society irrespective of religion, caste or region.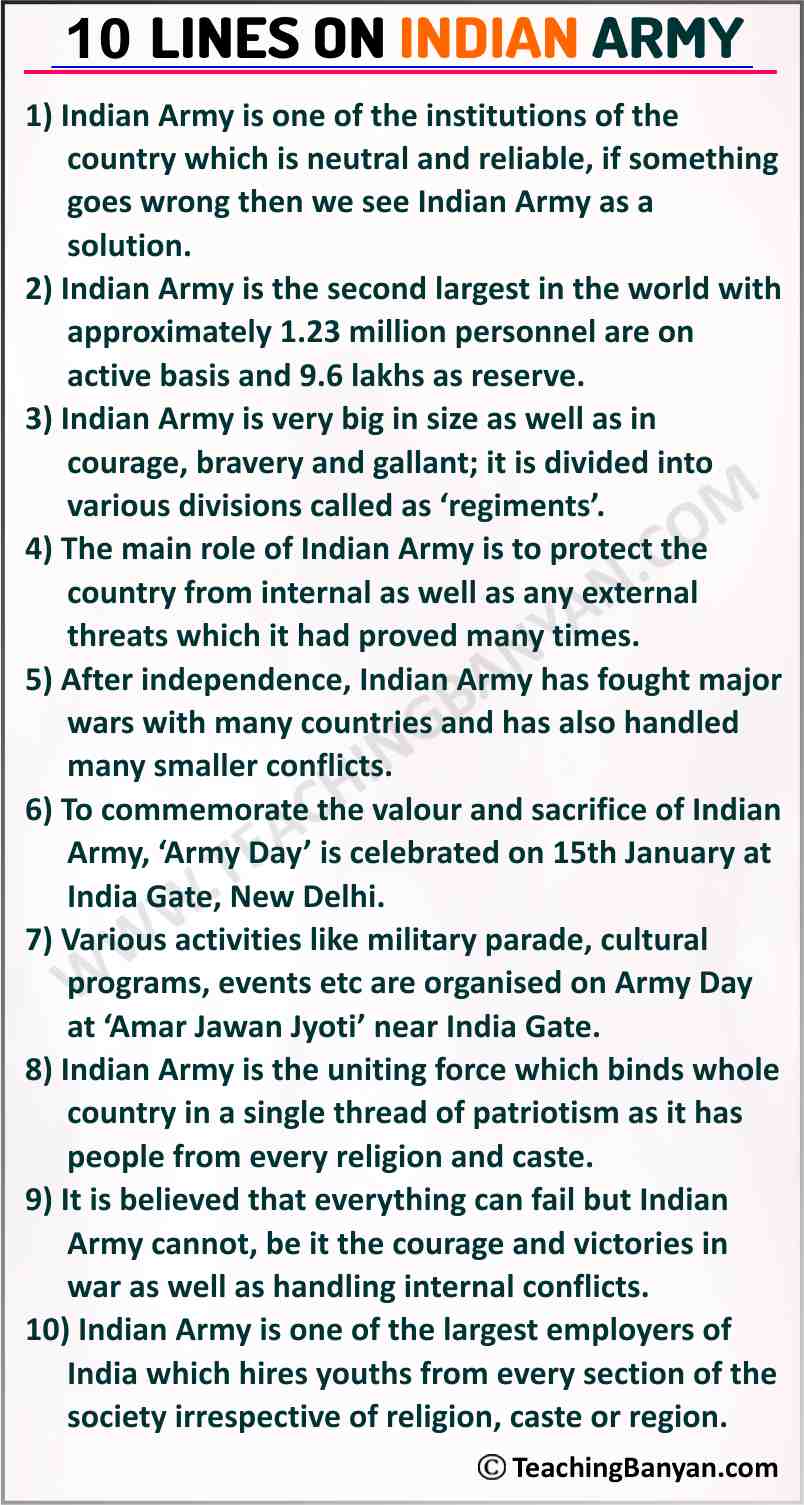 5 Lines on Indian Army
1) Indian Army is responsible for the nation's protection.
2) They work day and night.
3) They are the pride of the nation.
4) Indian army is famous for its unity.
5) It is the second-largest army in the world.
20 Lines on Indian Army
1) Indian Armed Forces constitutes of three forces – Indian Army, Indian Navy and Indian Air-Force.
2) Indian Army is the largest part of Indian Armed Forces.
3) Indian Army was founded on 1st April 1895.
4) The Head-Quarter of India Army is located in New-Delhi.
5) It is basically derived from the Army of East India Company which after Independence became the Indian Army.
6) The main objective of Indian Army is to provide security to the nation from external threats and maintaining unity and peace, internally.
7) Indian Army also plays the role of humanity by conducting rescue operations during natural calamities within the border of the nation.
8) The Indian Army is basically divided into six Army Commands and one Training Command.
9) The Chief of Indian Army staff controls and commands the Head-Quarter.
10) The Indian Army comprises Army personals of both genders, Aircrafts, Tanks, Missiles and Vehicles etc.
11) The President of India holds the supreme power to command Indian Army.
12) There have been 4 major conflicts between Indian Army and Pakistan after Independence.
13) The first war with Pakistan was emerged in 1947 right after Independence which was also called First Kashmir War.
14) China also had a war with Indian Army in 1962 which was called Sino-Indian War.
15) The Kargil War in 1999 was the last conflict between Indian and Pakistan till the date.
16) Indian Army personals have been awarded many Wartime and Peacetime Gallantry Awards like Param-Veer Chakra, Maha-veer chakra, Ashok Chakra, Kirti Chakra and others.
17) 15th January every year is celebrated as Army Day in India.
18) Indian Army has also conducted many successful exercises like Exercise Ashwamedha, Shakti, Shoorveer and Nomadic Elephant etc.
19) Indian Army also has the Horse Cavalry Regiment.
20) Siachen Glacier which is the world's highest battlefield is under the control of Indian Army.
---
Many of us have a desire to join Indian Army and to become a soldier. Children while playing games become Indian Army personnel and then act and behave like them. This is the importance of Indian Army in our life. In order to protect the border of our nation they even forget their families and friends and concentrate only to safeguard our nation. Indian Army is the symbol of courage, power and patriotism.
FAQs: Frequently Asked Questions on Indian Army
Q.1 What is the Indian Army's most prestigious award?
Ans. The Param Vir Chakra is the Indian Army's most prestigious award.
Q.2 Which is the oldest regiment in the Indian Army?
Ans. Madras Regiment, which has been around since the 1750s, is one of the oldest infantry regiments in the Indian Army.
Q.3 How many ranks are there in the Indian Army?
Ans. There are three primary categories of ranks in the Indian Army: commissioned officers, junior commissioned officials, and other ranks. Each rank has its own responsibilities and duties to fulfill.
Q.4 What types of units make up the Indian Army?
Ans. The Indian Army is composed of three main branches: the Infantry, the Armoured Corps, and the Artillery. It also includes several specialized units, such as the Special Forces, Engineers and Signals, and Medical and Supply Corps.
Q.5 What is the Army's largest airborne force?
Ans. The Indian Army's largest airborne force is the Parachute Regiment. The Parachute Regiment is responsible for airborne operations, including paratrooper drops and air assault missions.