Chenab River is a transboundary river that flows in both India and Pakistan. It is one of the five major rivers which flow in the Punjab region. Chenab River originates from Himachal Pradesh and travels to Jammu and Kashmir. From J & K, it enters Pakistan and meets the Indus River before going into the Arabian Sea.
Chenab River is a very important river for Jammu and Kashmir as it flows from various districts like Doda, Kishtwar, Ramban, etc and plays an important role for the people residing on its bank.
Ten Lines on Chenab River
Set 1
1) Out of the five important rivers in Punjab, Chenab is one.
2) It is formed in Himachal Pradesh through the joining of rivers 'Chandra' & 'Bhaga'.
3) The total length of Chenab River is 974 km and its coverage area is 29,050 square km.
4) As similar to the five rivers, Chenab River is also one of the tributaries of River Indus.
5) Chenab River originates from Lahaul and Spiti district in Himachal Pradesh.
6) After Himachal Pradesh, Chenab River flows into Kashmir's Doda and Kishtwar districts.
7) From Jammu and Kashmir, Chenab River enters into Pakistan's Punjab province.
8) After entering Pakistan Chenab River is joined by River Jhelum followed by River Ravi.
9) Chenab River merges with River Sutlej near Uch Sharif to form 'Panjnad' river in Pakistan.
10) The water of Chenab River is allocated to Pakistan under Indus Water Treaty in 1960.
---
Set 2
1) Chenab River is an important river in the Indian subcontinent.
2) This river flows majorly from India and Pakistan.
3) Baralacha La pass is the originating point of the Chenab River.
4) Chenab River is 974 km in length.
5) It is formed by the meeting of rivers Chandra and Bhaga.
6) These rivers originate from the Lahaul and Spiti districts of Himachal Pradesh.
7) Chenab River along with Ravi, Beas, Sutlej, and Jhelum forms Panjnad.
8) Chenab River is of great importance in India for electricity generation.
9) Chenab Arch Bridge is being constructed on Chenab River in Jammu Kashmir.
10) This iconic structure will be stated as the world's highest bridge after construction.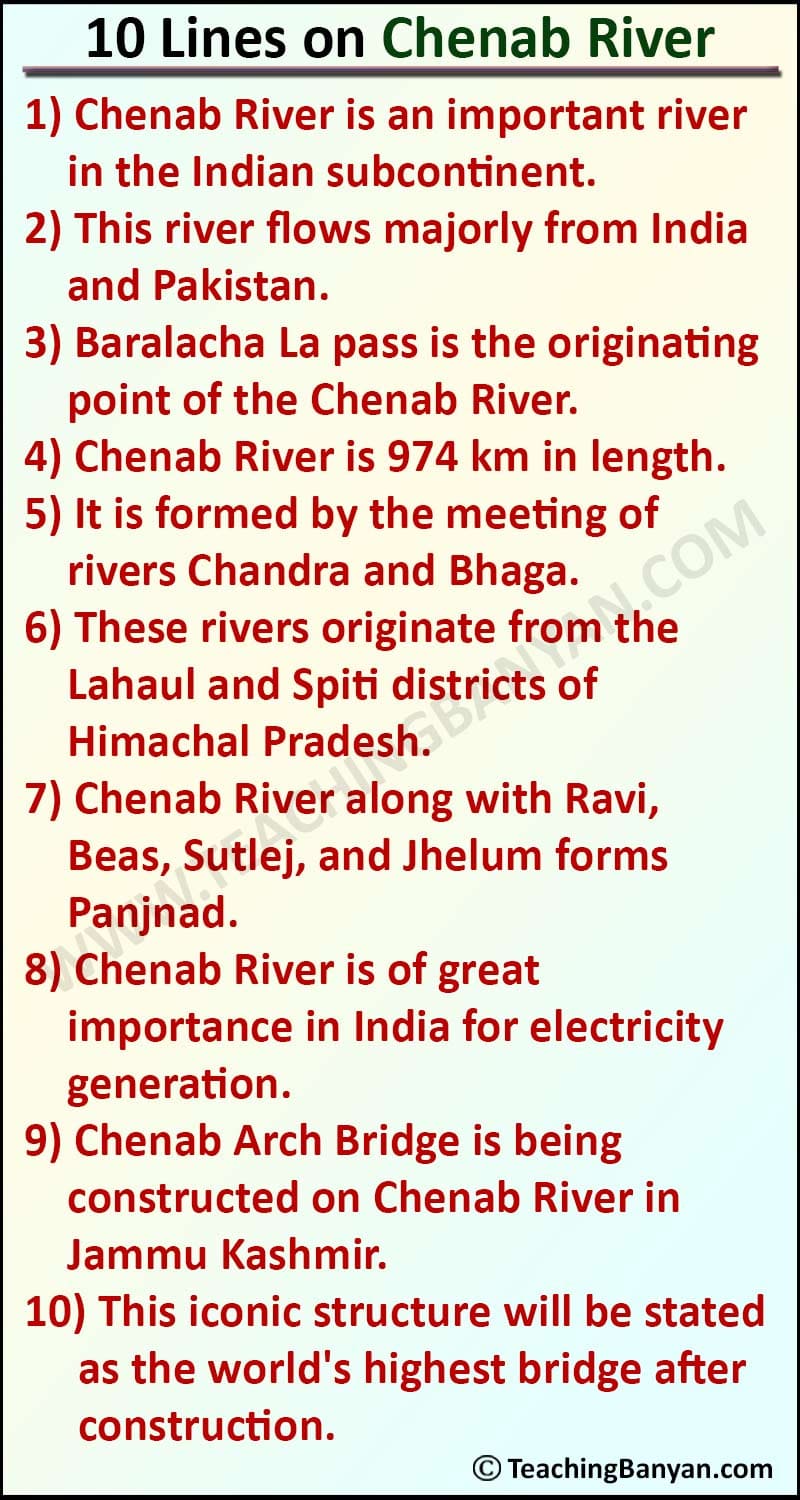 Set 3
1) Chenab river is stated the chief river of Himachal Pradesh.
2) It flows through two countries namely India and Pakistan.
3) According to Indus Water Treaty, the use of river water is allocated to Pakistan.
4) The existence of this river has been from the Vedic period.
5) Askini was the old name of the Chenab River that is mentioned in Rig-Veda.
6) It was called as Askini River because of its dark clouded water.
7) The water of the Chenab River fulfills the irrigation needs of the people in Pakistan.
8) Chenab River is utilized for generating power in India on a large scale.
9) It is made possible by the construction of dams on the river.
10) It forms an important part of five rivers that flow in Punjab.
---
Set 4
1) Chenab River contains seven very important dams providing hydroelectricity.
2) In Sanskrit, Chenab River is called 'Askini' or 'Iskamati' as mentioned in Rigveda, and 'Akesines' or 'Acesines' in ancient Greeks.
3) Railway Bridge on Chenab River, known as Chenab Bridge is probably the highest railway bridge in the world.
4) Chenab Bridge is higher than the Eiffel Tower and contains the height of 359 m.
5) It is an important river in Jammu and Kashmir flowing through their major cities.
6) They travels into the plains of Punjab forming boundary between Rechna and Jech Doab area.
7) After entering in Punjab Valley, Chenab River is joined by River Jhelum at Trimmu and then by River Ravi at Ahmadpur Siyal in Pakistan.
8) After crossing Ahmadpur Siyal, Chenab River gets merged with River Sutlej near Uch Sharif to form Panjnad and join River Indus in Mithankot.
9) The Baglihar Hydropower Dam is built on Chenab River in Doda district of Jammu and Kashmir and has 900 MW capacity of producing electricity.
10) Salal Dam of capacity 690 MW in Reasi, Dul Hasti Hydroelectric Plant of 390 MW capacity, Ratle Hydroelectric Plant and Pakal Dul Dam are in Kishtwar district of J&K.
---
Chenab River is not only the lifeline of both India and Pakistan but it is an important part of livelihood also. It has become very helpful for agriculture, transportation, etc, as well as the irrigation dams and hydroelectric projects on the Chenab River, provide electricity to the people living in Himachal Pradesh and Jammu and Kashmir. Salal dam, Baglihar Hydropower Project and other dams for electricity and irrigation are also running on the Chenab River and supporting millions of people.