Chandrashekhar Azad was a great revolutionary and an extremist freedom fighter who shook the regime of the British rule in India. He used to put 'Azad' in his name so that he could give a message to the world that he was born free, he is free and will be free forever.
He introduced the guerrilla warfare against the Britishers, that's why he was in the hitlist of the British government either to catch him alive or put him to death. Although Chandrashekar Azad lived for just 25 years, in this short period he became an idol for every person and gave new life to the freedom struggle of India.
Ten Lines on Chandrashekhar Azad
Set 1
1) Chandrashekar Azad was a great revolutionary leader and a freedom fighter.
2) He was popularly known by his pet name 'Azad' which means 'Free'.
3) Azad was born as Chandrashekar Tiwari on 23rd July 1906 in Bhabhra village in MP.
4) His mother wanted him to become a great scholar of Sanskrit.
5) To fulfill his mother's wish, Azad went to Varanasi for studies.
6) At the age of 15, Chandrashekhar Azad was arrested in the non-cooperation movement.
7) Azad, with the help of Ram Prasad Bismil, formed Hindustan Republic Association.
8) He was involved in Kakori train robbery with others in 1925.
9) He was also involved in the killing of J.P. Saunders in Lahore in 1928.
10) Chandrashekhar Azad died on 27th February 1931 at Alfred Park in Allahabad.
Set 2
1) Chandrashekhar Azad was a revolutionary leader and a firebrand freedom fighter of India who revolutionized the struggle of Indian independence.
2) He was popularly known as Chandrashekhar 'Azad' where he used to put the title Azad to symbolizing that he is and will remain free.
3) He was born as Chandrashekhar Tiwari in Jhabua district of MP to parents 'Pandit Sitaram Tiwari' and 'Jagrani Devi'.
4) Azad received his early education in Bhawra village of Jhabua district and for higher studies, he went to Kashi Vidyapeeth, Varanasi.
5) In 1921, while participating in the non-cooperation movement, he was arrested and on asking by the magistrate in court he told his name as 'Azad'.
6) Chandrashekhar Azad was deeply saddened with incident of 'Jallianwala Bagh' massacre in 1919 and decided to take the revolution to a new height.
7) He, along with Ram Prasad Bismil, Sachindra Nath Sanyal, Ashfaq Ulla Khan, etc formed the Hindustan Socialist Republic Association (HSRA) in 1928.
8) Chandrashekhar Azad was one of the revolutionaries who attempted Kakori train robbery in 1925 and took 8000 rupees from guard's cabin.
9) Chandrashekar Azad along with Bhagat Singh, Sukhdev, and Rajguru, tried to kill J.P. Saunders, who was allegedly involved in killing Lala Lajpat Rai.
10) On 27th February 1931, British police tried to capture Azad but he shot himself with his own pistol and died a martyr's death.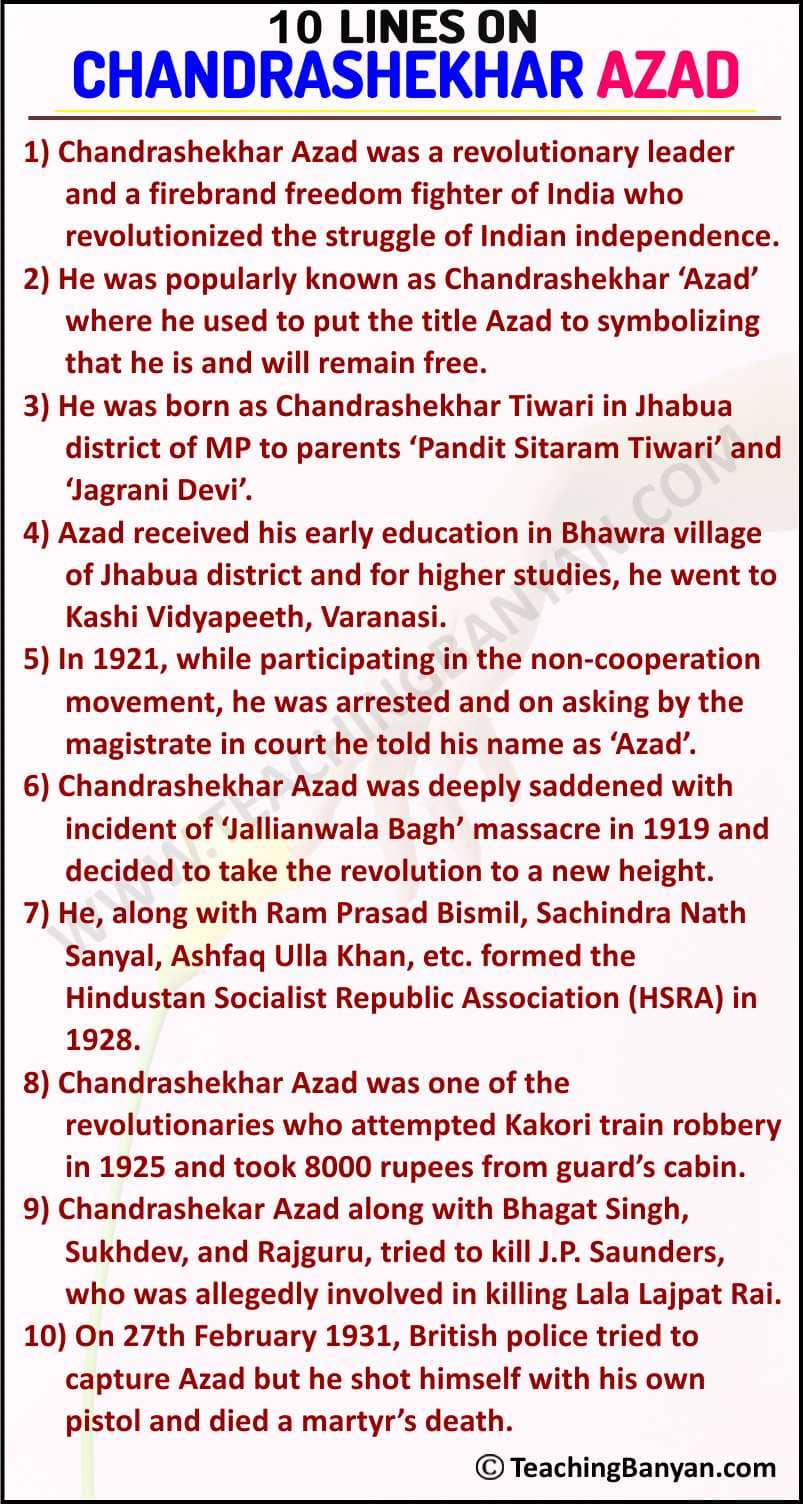 Set 3
1) Chandrasekhar Azad was an Indian revolutionary and mentor of Bhagat Singh.
2) Along with Bhagat Singh, Sukhdev, Rajguru, Ram Prasad Bismil, and Ashfaqullah Khan, Azad is seen as an example among the most popular Indian progressivists.
3) He was unmarried and adopted celibacy, which he started in this school.
4) He joined the Non-cooperation movement launched by Mahatma Gandhi in his early age and was arrested by the British.
5) When the judge asked his name, father's name, and residence; he replied Azad, Azadi (freedom) and prison respectively.
6) The judge was annoyed with the answers and sentenced him 15 lashes.
7) After lash tore off his skin, he shouted slogans like Vande Mataram and Mahatma Gandhi ki Jai.
8) He joined the Hindustan Socialist Republican Army, where he soon gained praise.
9) He was involved in trying to promote Kakori Conspiracy, Assembly Bomb Accident, Delhi Conspiracy, Saunders Shooting in Lahore and another Lahore Conspiracy.
10) While he was waiting for his companions in Alfred Park, Allahabad, he was surrounded by police; he fought bravely with his pistol and shot the last bullet in his skull and remained escaped from the hands of the British army.
Set 4
1) India's great revolutionary Chandrasekhar Azad played an important role in the freedom movement with unwavering patriotism and courage.
2) Chandrasekhar Azad, on the strength of his bravery, committed a robbery in the Kakori train, tried to blow up the Viceroy's train and opened fire on Saunders to avenge the death of Lala Lajpat Rai.
3) He along with Bhagat Singh, Sukhdev and Rajguru formed Hindustan Samajwadi Prajatantra Sabha.
4) The organization published its famous pamphlet "The Revolutionary" to make the public aware of its objectives as they wanted to build a new India.
5) Thousands of innocent people were gunned down in the massacre in Jallianwala Bagh, Chandrasekhar Azad's spirit was hurt by this incident and later he adopted the path of violence.
6) Chandrasekhar Azad was very good at changing his appearance, so he was lived in Jhansi for a long time by the name of Pandit Harishankar Brahmachari.
7) Chandrasekhar was also of religious nature, he built Hanuman temple on the banks of Satar River, which is the center of faith of millions of Hindu people today.
8) After independence, Alfred Park was renamed Chandrasekhar Azad Park in Allahabad to commemorate the bravery of Chandrasekhar Azad where he had taken his last breath.
9) The great sacrifice of the great revolutionary Chandrasekhar Azad in making India independent filled the people with rebellion against the British rulers and the ongoing movement for independence intensified.
10) On August 15, 1947, 16 years after Azad's martyrdom, India got independence and his dream of independence of India was fulfilled.
---
Chandrashekhar Azad had his own style of working. He was also influenced by Gandhiji's non-cooperation movement but when Gandhiji called off the movement without any result, he was disappointed. Azad was deeply saddened by the Jallianwala Bagh massacre where hundreds of people were killed. This incident expressed his outrage by carrying out the extremist's activities like Kakori train robbery, killing of J.P. Saunders, etc.