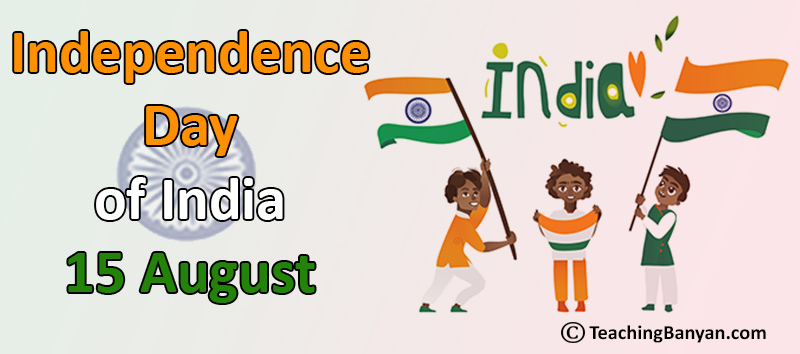 Independence Day of India is a national event to be celebrated in every part of the nation. It falls on the 15th of August every year which the entire nation celebrates with great dedication and patriotism. It is a very important day in Indian history as it was the day when India got independence from British rule after a long time of struggle. The day is worth to be celebrated for every citizen of the nation.
10 Lines on Independence Day || 10 Lines on Independence Day Celebration || 10 Lines on Importance of Independence Day
76th Independence Day of India – 15 August 2022
Since, the Independence Day of India is celebrated every year, we will celebrate its 76th anniversary of freedom on 15 August 2022, Monday of the week.
What is Special on 76th Independence Day 2022
This year in 2022, India has marked its 76th Independence Day that will be celebrated as a mega event because of another new launched campaign Har Ghar Tiranga under Azadi ka Amrit Mahotsav by the Government of India.
1) India is going to celebrate its 75 years of independence with great excitement on 15 August
2022.
To mark this glorious year, the celebration is named as "Azadi Ka Amrit Mahotsav".
Azadi Ka Amrit Mahotsav started 75 weeks before 15 August 2022.
This year flag will be hoisted at every house under the Har Ghar Tiranga campaign.
UP government will not close schools, colleges, government, and non-government offices on
15 August 2022.
Also Read: Paragraph on Independence Day of India
What was Special on 75th Independence Day 2021
First time ever two Mi 17 1V helicopters of the Indian Air Force in Amrut Formation showered flower petals at the venue while hoisting the National Flag under captainship of Wing Commanders Baldev Singh Bisht and Nikhil Mehrotra respectively.
BSF unfurls National flag for first time in a Maoist area base in Odisha.
India Celebrated 75th Independence Day with a virtual reality service for the first time.
AmritMahotsav celebrations took place by Indian Embassies & Consulates all around the world such as  Ashok Stambh' inauguration by President of Mauritius, Indian Cultural Show in Jamaica, Theatrical performances in USA, Celebrating Indian Diaspora in Germany, Yoga Session with First Lady of Brazil, Celebration of "Hariyali Teej" in the Netherlands and Indian Cinema Week in Belarus.
The tricolor was also hoisted at the Donkayala Pass 18300 feet above, the highest pass in the eastern region.
98 year old freedom fighter Kartick Chandra was invited to Rashtrapati Bhawan as a part of Independence Day celebrations.
The military installed a 100-foot-high national flag in Jammu and Kashmir's Gulmarg.
Theme of 75th Independence Day was 'Nation First, Always First'.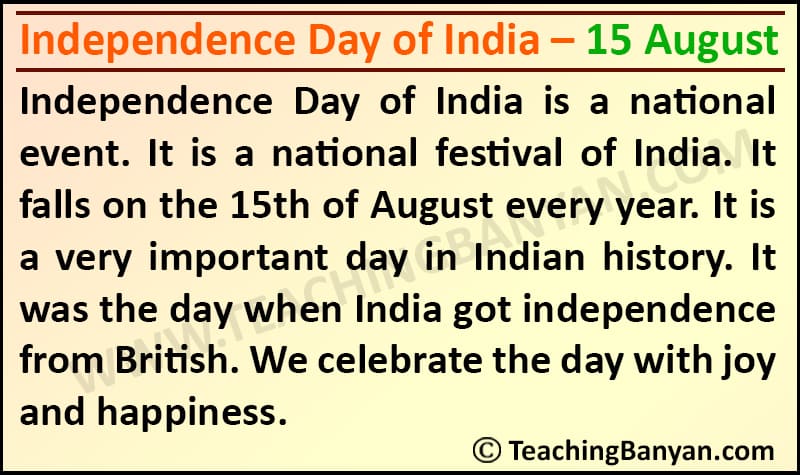 Brief History about 15 August
We celebrate the Independence Day of India every year on the 15th of August because India had got freedom from the British Government on the same day in 1947. But do you know what had happened before it? What is the history of India before 15 August 1947? Let's read about it in brief below.
Before becoming an independent nation, India was a colony of the British Government. They ruled over India for almost 200 years. During this period, they took away all the resources of India and completely exploited the Indians. The Indians were living like bonded labour in their country.
But there were some people whose self-respect could not digest this unruly behavior of the British Government. They revolted against the Britishers many times and sacrificed their lives for the freedom of their motherland. Their relentless efforts and unwavering faith brought the dawn of independence to India.
Timeline of Freedom Struggle of India
During the around 200 years of freedom struggle, India has gone through many movements, revolts, and many other historical changes. These are worth to be read, and we have provided a timeline based on it below:
1600 – East India Company was established in India on 31 December.
1817 – Paika Rebellion was organized by the British Indian Army in Odisha.
1857 – The famous Revolt of 1857 led by Mangal Pandey and started on 10 May from Meerut.
1864 – Scientific Society was established by Sir Syed Ahmed Khan.
1878 – Freedom of Press was assured through the 'Vernacular Press Act', proposed by then viceroy Lord Lytton.
1882 – Hunter Commission (Indian Education Commission) was established for the growth of education in India.
1883 – Lord Ripon proposed the Ilbert Bill.
1884 – Ilbert Bill was passed by the then Government of India.
1885 – Indian National Congress was founded at Bombay in India.
1897 – Swami Vivekanand founded Ram-Krishna Mission.
1905 – Lord Curzon announced the Partition of Bengal in July, and it took place in October.
1906 – All India Muslim League was founded at Dhaka.
1907 – Surat split of Indian National Congress.
1908 – Khudiram Bose was executed on the 11th of August.
1909 – The famous 'Minto-Morley Reform (Indian Council Act)' took place.
1910 – 'Indian Press Act' was promulgated by the British Government.
1911 – The Partition of Bengal was canceled.
1912 –Rashbehari Bose and SachindraSanyal threw a bomb on Lord Hardinge, Delhi became the capital of India.
1913 – 'Ghadar Party' was formed.
1914 – 'First World War' started on 28 July.
1915 – Mahatma Gandhi returned from South Africa.
1916 – Bal GangadharTilak established 'Home Rule' in April.
1916 – 'Lucknow Pact' between Indian National Congress and Muslim League took place in December.
1917 – Champaran Satyagraha was started by Mahatma Gandhi.
1918 – 'Madras Labour Union' was established.
1919 – 'Montagu Chelmsford Reform' took place, 'Rowlett Act' was passed and the brutal 'JallianwalaBagh Massacre' happened.
1920 –'Non-Cooperation Movement' started.
1922 – 'Chauri-Chaura Incident' took place.
1923 – 'Swaraj Party' was established.
1925 – 'Kakori Conspiracy' took place.
1927 – 'Simon Commission' was established.
1928 – Bhagat Singh and Rajguru assassinated Saunders, and 'Simon Commission' reached India in February.
1929 – Bhagat Singh and BatukeshwarDutt bombed in Central Legislative Assembly, and 'Purna Swaraj' was declared in Lahore on 31 December.
1930 –'Civil Disobedience Movement' and Dandi March' started, 'Chittagong Armoury Raid'took place and 'First Round Table Conference' happened.
1931 – 'Bhagat Singh was Hanged with Rajguru and Sukhdev', 'Gandhi Irwin Pact' on 5 March and 2nd Round Table Conference.
1932 – 3rd Round Table Conference and Poona Pact.
1935 – 'Government of India Act' took place.
1937 – Under the Act of 1935, elections took place in India.
1938 – Subhash Chandra Bose became the president of Congress.
1939 – 'Second World War' started on 1 September.
1941 – Rabindranath Tagore died on 7 August.
1942 – 'Quit India Act' took place and 'Azad Hind Fauj' was formed.
1945 – 'Shimla Conference' by Wavell to form the executive council of Indian leaders.
1946 – Royal Indian Air-Force Mutiny.
1947 – India became an independent nation on the 15th of August.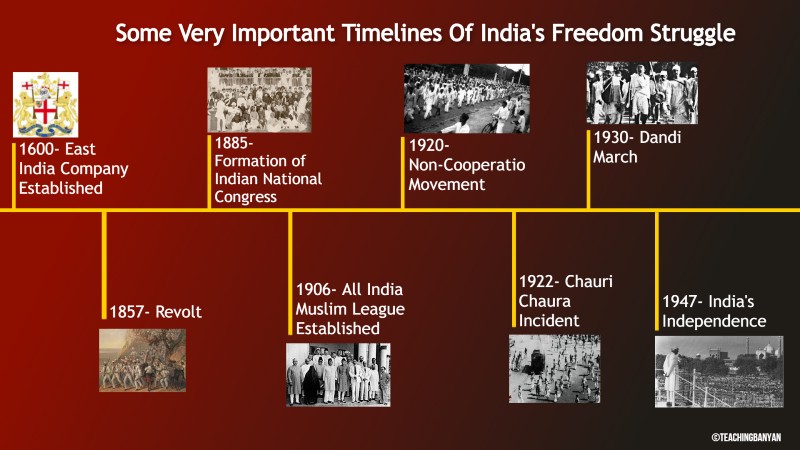 Some Important Movements of Indian Independence Struggle
Paika Rebellion was started by the British Indian Army of East India Company in Odisha. This army was called Paika, and they rebelled because they were not given as many facilities as were given to the British army. Even, the Indian army was also forced to pay extra taxes, but the British army was free from it. These situations of Indians forced them to rebel against the East India Company. The Paika Rebellion was led by the Bakshi Jagabandhu, but unfortunately, it was failed. Paika Rebellion is considered to be the first rebellion for the independence of India.
The Revolt of 1857 was an important rebellion of the history of India. It was such a terrible incident, in the fiery flames of which the existence of the Britishers seemed to be burning away.
Although there were many reasons for this rebellion, such as political, religious, economic, and social, etc. but the most important of them was the discontent in the military. The Enfield rifle was invented then in Britain. The cartridges of these rifles were made of the fats of cow and pig. Soldiers had to cut their cap from the mouth to put into the rifle. These greased cartridges ignited the rebellion.
The Rebellion of 1857 was led by the British Indian soldier Mangal Pandey. The revolutionaries did not succeed in the purpose with which the revolution of 1857 was initiated. There were many reasons for the failure of this great revolution.
The Kakori Conspiracy was a train robbery led by Ram Prasad Bismil and Ashfaqulla Khan. They looted a train with their friends at Kakori near Lucknow which was carrying some goods of the British Government. They had looted the train to get some money so that they could purchase Guns and Bullets and continue their struggle for freedom of India. The Kakori Conspiracy succeeded in burning the fire of nationalism in Indians, and they came forward to hold a weapon for their independence.
Mohandas Karamchand Gandhi led the first non-co operational movement in India from 1920 to 1922. The reason behind conducting this movement by Mahatma Gandhi was the disrespectful behavior of the British Government towards Indians. This movement got mass support and made the British Government think about their rules and regulations.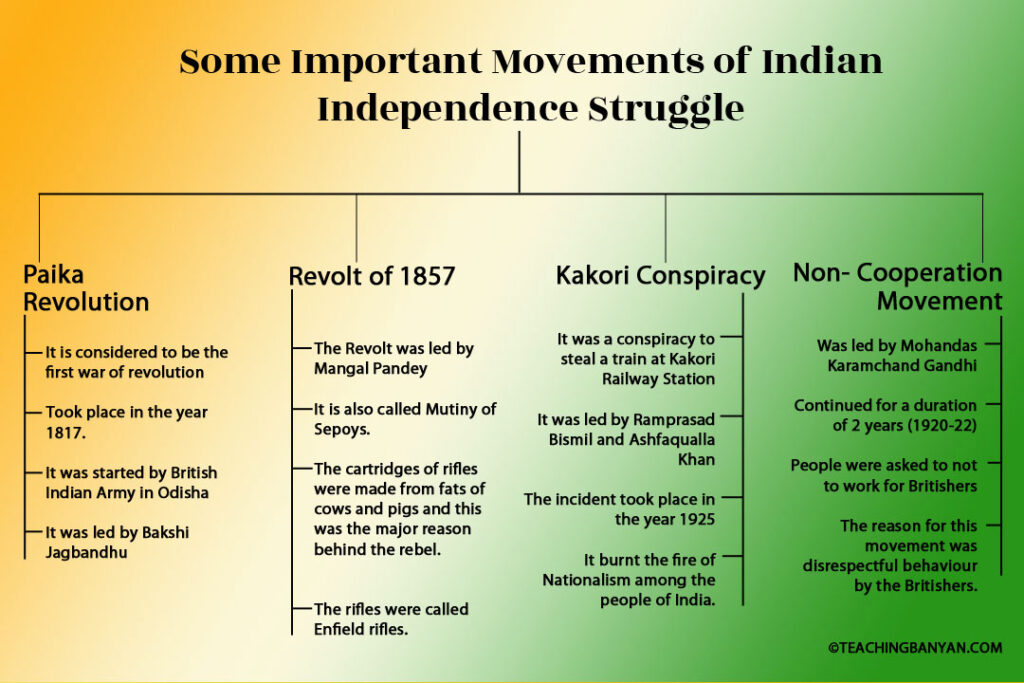 "A Tryst with Destiny" - Speech by Jawaharlal Nehru on 15 August 1947
On the midnight of 14 August 1947, when India was going to have a new era of civilization and opportunities, Pandit Jawaharlal Nehru, who was about to be the first Prime Minister of India, addressed the nation. That speech of Nehru in the mid-night is known as 'A Tryst with Destiny'.
In the speech, Pandit Jawaharlal Nehru said that India was going to experience a new life from the next day. All that Indians have dreamt of for a long time was going to be true since the next day. Though it was not complete liberty, the period of that was about to start. A glorious future was waiting to start and the journey for an independent and developed India was about to begin.
The Prime Minister also said that the future was not going to be easy for us. There were many obstacles to come in the path of the development of the nation. But he advised us to stay with peace and brotherhood. These are the tools for making India a great nation. He also said that the world is hoping for India to be a developed Asian country.
The Speech quoted "Long years ago we made a tryst with destiny, and now the time comes when we shall redeem our pledge, not wholly or in full measure, but very substantially. At the stroke of the midnight hour, when the world sleeps, India will awake to life and freedom. A moment comes, which comes but rarely in history, when we step out from the old to new, when an age ends, and when the soul of a nation, long suppressed, finds utterance..."
Methods of Celebration on 15 August/Activities on Independence Day
Independence Day of India is celebrated by the people of all religions, communities, and regions together. It is a national festival, so the nation celebrates it all together.
The most important activity of the day is the unfurling of the Indian flag by some prominent personalities of the locality, city, state, or nation. The flag hoisting ceremony is done in almost every part of the nation, whether a village or a town. First of all, people clean an appropriate place and put the Indian national flag there. Flag hosting happens in the entire nation together at the same time. Then people deliver some speeches depicting the story of the struggle of India for freedom. They remember the freedom fighter and pledge to keep the legacy of the nation.
There is the grandest celebration held at Rajpath in New Delhi where the Prime Minister of India hoists the national flag from the rampart of Red Fort and then addresses the nation through live telecast over televisions and radios. He also tells people about his plans for the growth of the nation. The band of the Indian Defence Services plays the national anthem in front of the Prime Minister of India.
The Schools, Colleges, various organizations, and other educational institutions also remain the center of attraction on the day. Students and children conduct their different social and cultural programmes. Some students also present plays and dramas based on the stories of Independence. They are awarded according to their performances.
Some people visit orphanages and distribute sweets among the children there. They also distribute them the Indian flags and enjoy them all day with them. The government distributes many awards, and so do many organizations too. It is a great day of pride for the people of India.
Objectives and Significance
Independence Day of India is a national celebration aimed at making people realizes the importance of freedom in our life. Though we all love the freedom that has been passed to us by our freedom fighters, we should not forget their sacrifices. One of the major reasons behind celebrating such an auspicious occasion is remembering the cultures and traditions of our nation and fills the sense of patriotism among the people here.
Through the Independence Day celebration, children come to know about the glorious past of the nation and the troubles it has gone through that period. The occasion also gives us a chance to show our love and respect for our freedom fighters like Bhagat Singh, Chandra Shekhar Azad, etc. Through the various cultural events, we present our cultural values in front of the World.
We also see the military power of our defense services on the day through their parades. It is Independence Day of our nation when the people of different religions, whether Hinduism, Sikhism, Christianity, or Islam, stand together and share their love for their motherland forgetting the boundary of differences among them. So it is the best day to experience the brotherhood among the Indians.
Some Important Facts Related to Independence Day of India
5 Countries including Bahrain, Republic of Congo, Liechtensteine, North Korea and South Korea got
independence on 15 th August.
India's national flag was designed by Pengali Venkaiyaah.
Pakistan got early independence as Lord Mountbatten was supposed to be present in both country's independence
ceremony.
On the day of Independence, freedom fighter Sucheta Kriplani sang Vande Mataram in the
parliament.
Mahatma Gandhi didn't join the Independence Day celebrations as he was in Calcutta to turn down the riots going on between Hindus and Muslims.
Know More Facts about National Flag of India....
Conclusion
The Independence Day of India is one of the three national festivals of India. It is our right and duty to celebrate the day with joy and happiness, forgetting the personal rivalry. Though we have become independent now, we must work to be a global power. There are many issues that need our attention like population, pollution, depletion of natural resources. We should work on reducing them so that we can save our nation as well as our earth.
India is so rich that many countries want to become like India. We boast more than unofficial 19000 languages, and with 23 registered languages, India holds many cultures combined in it. The country has always been a benchmark setter for a long time. The Independence Day of India is a colossal event and many people from around the world mark their presence in the event. India is prideful of its country, people, culture, and celebrations. Independence day of India is one of them.
FAQs: Frequently Asked Questions
Q.1 Which Independence Day will be celebrated in India in 2022?
Ans. 76th Independence Day will be celebrated in India in 2022.
Q.2 Where is the flag hoisted on Independence Day?
Ans. Our flag is hoisted at Red Fort on Independence Day.
Q.3 Who hoisted the national flag for the first time?
Ans. Sachindra Prasad Bose hoisted the flag for the first time.
Q.4 What is Independence Day Specialty?
Ans. The specialty of Independence Day is the ending of British rule and the establishment of freedom of India.
Related Information: