Raksha Bandhan is the famous Hindu festival of celebrating eternal love between siblings. The bond of affection between sisters and brothers is celebrated with a thread of love, care, and promises. For knowing the significance and celebration of Raksha Bandhan, we have prepared some of the important paragraphs. Kindly read it as per your need.
Short and Long Paragraphs on Raksha Bandhan
Paragraph 1 – 100 Words
Raksha Bandhan or Rakhi is the holy occasion of celebrating the bond between sisters and brothers. On this day, sisters tie a thread or Rakhi on the wrist of their brothers. In return, brothers present gifts to their sisters with a pledge of protecting them like a shield from all the odds of the world.
The Thread of Shouldering Responsibilities
Sisters pray for the long life of their beloved brothers. The thread also carries a bond which is based upon the loving relation of brothers and sisters, with the motto of sharing responsibilities. The beautiful relation between brothers and sisters is celebrated in this pious fest of Raksha Bandhan.
Paragraph 2 – 120 Words
Raksha Bandhan tells the loving relationship between brothers and sisters. No matter, they are quarrelsome with each other but their relation is unique. Raksha Bandhan is made up of two words Raksha i.e. protection and Bandhan i.e. tying, so it means tying a knot of protection.
Rakhi Purnima: Raksha Bandhan is also called as 'Rakhi Purnima', as it falls on the full moon day. In Hindu Calendar Rakhi falls on "Shravan Purnima", in English Calendar the month of Shravan/Sawan is the Seventh or Eighth month of the year.
The Custom of the Fest: In this festival, sister lits a lamp for his brother, feed him sweets and apply 'Tilak' on his forehead and then ties a Rakhi/Thread on his wrist. This whole ritual is performed on the holy muhurta of tying Rakhi. Sisters usually fast before tying Rakhi.
Paragraph 3 – 150 Words
Raksha Bandhan is the unending bond of love and cares among sisters and brothers. According to Hindu mythological facts:
once Lord Krishna got a cut in his finger by his Sudarshan Chakra, then Princess Draupadi tied a knot on his cut from the border of her Saree as a cure. Lord Krishna then promised her to protect her from every harsh scenario; she will face in the future. In Bhavishya Purana this knot was considered as the origin of the custom of Rakhi.
Some other religious facts say that Goddess Lakshmi once sent a thread to ruler Bali for reliving her companion (Lord Vishnu). After receiving the thread Bali felt that he is liable to the goddess and he asked Lord Vishnu for returning to Vaikuntha.
Commercial Perspective of the Fest: For celebrating the auspicious occasion of Raksha Bandhan, various fancy Rakhis are sold each year. Rakhi stalls are decorated by providing various options for buyers. The E-Commerce market also makes a good business during the season of Rakhi.
---
Paragraph 4 – 200 Words
Raksha Bandhan depicts the unabated form of love between brothers and sisters. The Thread/Rakhi carries a shield of love and care. The sharing of responsibilities between brothers and sisters can be said as the Raksha Bandhan. Like every other festival, Raksha Bandhan also carrying a historical approach.
Rani Karnavati (Queen of Bundi) once sent Rakhi to Mughal Emperor asking for help for her kingdom. This incident was also considered as remarkable as Queen was Hindu and she sent Rakhi to Muslim Emperor. During the invasion of Alexander in India, the uproar of king Porus was high at that time. Alexander's wife was tensed for his safety, for these reasons she asked for help from Porus by sending him Rakhi. This historical incident also counted as the beginning of Raksha Bandhan.
Worldwide Rakhi Celebration Methods and its Fame
In various other countries like Nepal, Mauritius, UAE, etc, the trend of celebrating this festival is common. It is also one of the festivals which are not only celebrated in the Hindu religion but also followed by other communities of India.
There are many ways of celebrating this beautiful fest. Wearing fancy clothes, cooking delicious dishes, buying gift hampers, and purchasing decorative veneration plates (Rakhi Thalis) are the best parts of this festival.
Paragraph 5 – 250 Words
Raksha Bandhan is the fest of expressing the most unique relationship between sisters and brothers. There are many ideas for celebrating this festival in the most pleasant way. Sisters can make it special by following ideas:
Decorating home with traditional chandeliers and with sister & brother symbolic wall stickers.
Cooking brother's favourite dishes and preparing the menu according to his choice.
Gifting his favourite perfume or apparels.
Planning a fun trip with him or visiting temples with him.
The pious occasion of Rakhi tells the story of the beautiful bond of brothers and sisters. For making sisters' day special brothers can also take the following ideas:
Surprising her with a bunch of cookies or her favourite chocolates.
Gifting her favourite dresses, cosmetics, etc.
Surprise visit on the day of the festival.
Ordering her favourite food.
Is a Bond of Thread Really Symbolises the Loving Relation of Brother and Sisters?
Among all Hindu festivals, Rakhi is considered unique. It is celebrated by the motto of sharing love and care between sisters and brothers. Sometimes, it is observed that cousin sisters, and brothers share the bond of affection more than the real one. These social changes can be said as the effect of westernization in our personal life. Some people say that the loving relation of sisters and brothers is slowly getting limited to the virtual world only.
Future of the Fest
Slowly the custom of Rakhi is diminishing. Family feuds, mismatch of thoughts, and westernization are some of the reasons for fading the charm of the fest. The tradition of Raksha Bandhan is still as glorious as before. But question is that, in the future, people will celebrate it or not? It may get much importance or may not, depends upon the culture of the coming generation.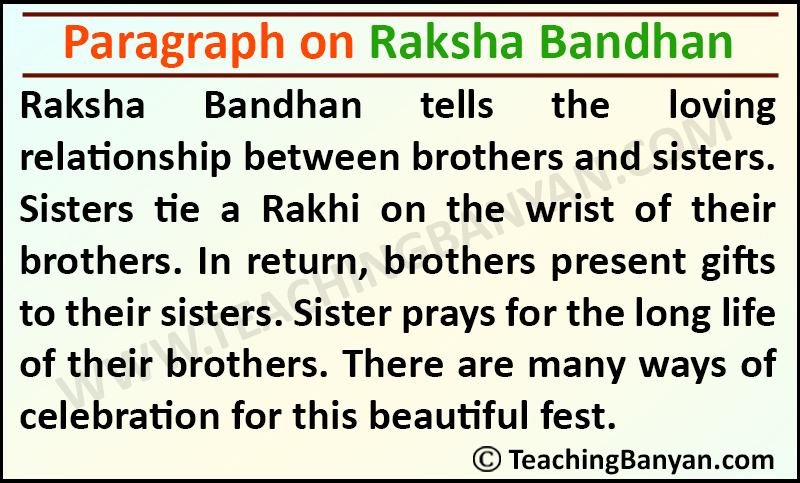 FAQs: Frequently Asked Questions
Q.1 In 2021 which day Raksha Bandhan was celebrated?
Ans. On 24 August 2021 Raksha Bandhan was celebrated.
Q.2 What is the other name of Raksha Bandhan?
Ans. The other name of Raksha Bandhan is Rakhi Purnima or Rakhi.
Q.3 What is meant by Raksha Bandhan?
Ans. Raksha Bandhan means the bond of love and care between brother and sister.
Q.4 In which month does Raksha Bandhan is celebrated?
Ans. According to the Hindu calendar, it is celebrated in the month of Shravan (August).
Q5. How Rakshabandhan started?
Ans. Draupadi in Mahabharata tied a piece of cloth in the wrist of Lord Krishna and then Krishna obeyed her as a sister.
Q6. Who celebrated Rakshabandhan at the mass level?
Ans. Rakshabandhan was celebrated at the mass level by Rabindranath Tagore in 1995.