Makar Sankranti is a major Hindu festival celebrated in India on 14th or 15th January. It celebrates the transition of Sun into Makara Rashi or Zodiac sign. From Makar Sankranti, the days become longer and hotter.
Short and Long Paragraphs on Makar Sankranti 2022
Paragraph 1 – 100 Words
Makar Sankranti is a Hindu festival in India. It is celebrated every year on 14th or 15th January. It is dedicated to Sun God. On this day Sun enters into "Makara" Rashi. The days get longer after Makar Sankranti. The festival also marks the end of the cold winter.
On this day the ritual of taking a bath in a holy river is followed. People take bath in the rivers and pray to Sun God. It's kind of thanking the Sun for its heat that supports life. Khichdi – a mix of pulses and rice is prepared and eaten. People also fly kites.
Paragraph 2 – 120 Words
Makar Sankranti is a major festival in India. It is celebrated mainly by the Hindu community. It is celebrated in many states by different names. In the western states of Punjab and Haryana, the festival is called Lohri. It is called "Pedda Pondaga" in Maharashtra and Goa. In many places fairs are also held on Makar Sankranti.
Children love to go to the Makar Sankranti fairs. After a long winter, it is the day when they can go out and play. They fly kites all day long. People bathe in rivers and thank the Sun God for warmth and heat. Sweets are prepared from sesame seeds (til) and jaggery (gud). The festival also celebrates the bounty after the harvest of Rabi crop.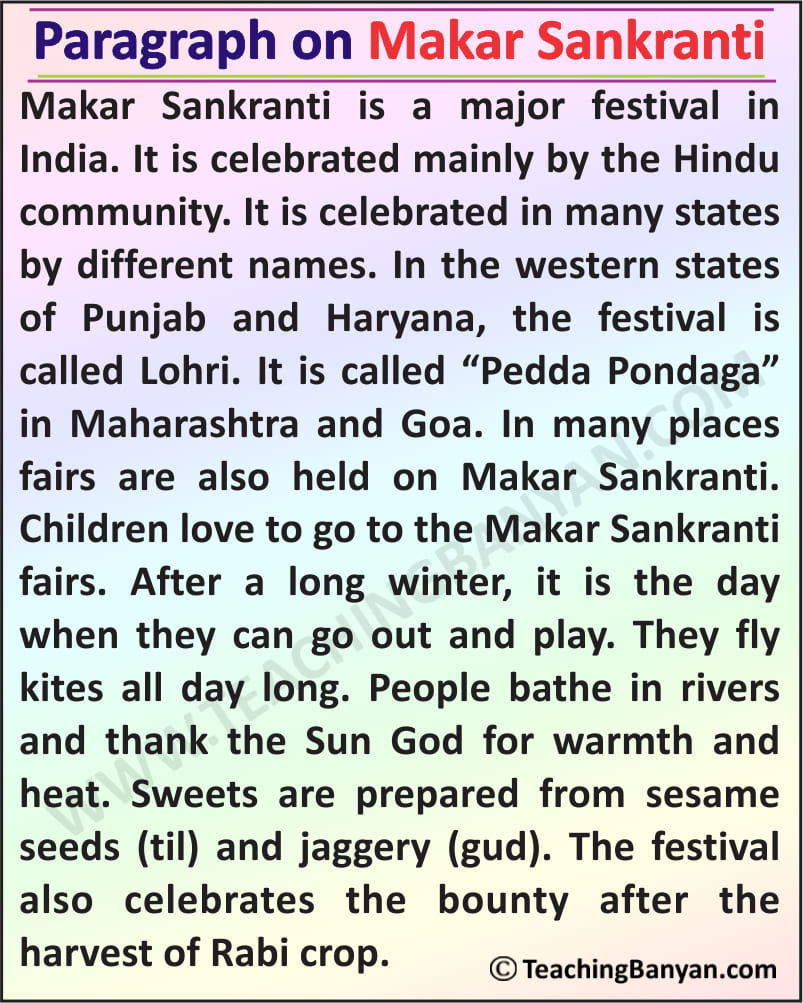 Paragraph 3 – 150 Words
Every year Hindus celebrate Makar Sankranti in the month of January when the Sun enters into Capricorn or Makara. It is one of the few Hindu festivals based on the solar cycle. This is the reason why it falls on exactly the same date every year. Rest all the festivals follow the lunar cycle. From Makar Sankranti onwards the days become longer and sunny. People bathe in holy rivers and thank sun God.
The festival is celebrated as Lohri in the western state of Punjab; Magh Bihu in Assam and Thai Pongal in southern Tamil Nadu. Famous Kumbha Mela is also held on Makar Sankranti at Haridwar, Allahabad, Ujjain, and Nashik. In Karnataka, girls wear new clothes on Makar Sankranti and visit family and relatives, distributing sweets.
People and children eagerly wait for Makar Sankranti t fly kites. Kites are called "patang" in Hindi and children fly them all day long on Makar Sankranti.
Paragraph 4 – 200 Words
Makar Sankranti is an ancient Hindu festival celebrated with great joy and happiness. It is celebrated every year on 14th or 15th January, depending on the Sun's position. It is a day to take a bath in a holy river and thank Sun God for his blessings.
On this day the sun transits into Capricorn (Zodiac sign). Taking a dip in a holy river on Makar Sankranti is believed to wash away all the sins. The festival welcomes longer and sunny days after the chilling winter season. It is celebrated by different names throughout the country, but the main idea is to celebrate the natural elements and togetherness.
Charity is also undertaken by many cultures on Makar Sankranti. Families donate rice, sweets and other eatables to the poor and needy. It is believed to bring blessings and good luck. In some traditions, people wear black in order to absorb the maximum heat of the sun.
People wish each other good luck and happy Makar Sankranti as it is also the first festival of the year. Kite flying is one of the main activities done on Makar Sankranti. The sky is filled with hundreds of kites. The idea behind kite flying is that people spend more time in open Sun and get benefit from its heat.
---
Paragraph 5 – 250 Words
Makar Sankranti is a harvest festival celebrated by Indian Hindus. On this day the sun enters the Makar Rashi; therefore, it is called Makar Sankranti. The sun begins moving northward towards Tropic of Cancer from the Tropic of Capricorn. This phenomenon is also termed as Uttarayan, meaning a northward march of the Sun.
India lies in the north of the equator, so it means that days become sunny, hotter and longer. That is why Makar Sankranti is celebrated to welcome hot and healthy days. Makar Sankranti is also a harvest festival. Crops of rice and pulses would have been harvested by the month of January. It is time for the farmers to take a break and enjoy their bounty from cultivation.
The festival of Makar Sankranti marks the arrival of the spring season in India. It is celebrated vibrantly throughout India. Every place and culture has a different tradition of celebrating Makar Sankranti. Sweets made from sesame seed and jaggery are made in the home and distributed to friends and relatives.
One of the best pass time activities of the festival is kite flying. Kites of different, shapes, sizes and colors are seen all over the sky. Kite flying competitions are also held at several places. People and children fly kites all day, competing with each other. Small shops selling kites and other essentials come up on Makar Sankranti. Elders and children could be seen choosing for their kite. The tradition of kite flying is traditionally followed throughout the Indian subcontinent.
FAQs: Frequently Asked Questions on Makar Sankranti 2022
Q1. On which dates Makar Sankranti is celebrated?
Ans. Makar Sankranti in India is celebrated on 14th and 15th January.
Q2. Which god is worshipped in Makar Sankranti?
Ans. God Sun is worshipped in Makar Sankranti.
Q3. What is the most famous activity people do on Makar Sankranti?
Ans. Flying kites is a famous activity done by people on Makar Sankranti.
Q4. What are other festivals celebrated around Makar Sankranti?
Ans. Baisakhi and Lohri are some famous festivals celebrated around Makar Sankranti.