Loving our nation and working towards its betterment is the best act one could perform. Patriotism is not only shown during Cricket matches or in any national event but it is one's love for our nation. We have poured all the informative aspects of this topic into the paragraph mentioned below. Kindly go through it.
Short and Long Paragraphs on Patriotism
Paragraph on Patriotism – 100 Words
Patriotism can be defined as one's immense devotion to his/her country. A country is from its citizens. The love for own country is the feeling of patriotism. A person who has a true feeling of love and devotion towards his country is called a patriot.
From the pages of history, we can found the tales of patriotism. There were various battles fought between countries for saving their motherland. Indian history is rich with great patriots. They were carrying a string patriotic feel for our nation. They fought until our country became free from British rule.
Paragraph on Patriotism – 120 Words
Patriotism is a feeling of one's true loyalty towards his country. This feeling always motivates a person to contribute his efforts to the development of his/her nation. Patriotism embraces the nation's unity and helps in maintaining peace in the nation.
The true devotion for the birthplace or motherland is the eternal feeling of a human. A true devotee of a nation can sacrifice his/her life for the nation. Patriotism is not only a feeling but it is also an emotion for our motherland. This emotion is equal for all citizens dwelling in a nation. In a developing country, the role of patriotism is important. Patriotism can save a nation from slavery and various social evil present in our society.
Watch it on Youtube : Paragraph on Patriotism in English
Paragraph on Patriotism – 150 Words
Patriotism is a strong affection towards our nation. The bonding a human feels from his/her homeland or motherland is called patriotism. Great Indian freedom fighters lost their life for the nation. The story of independent India is a true example of patriotism.
People take examples from our great Indian freedom fighters. The revolt of 1857 was the first national unified revolt against British rule. The bravery of our patriots is contributed to give a new morning to independent India.
Developing a Nation: If a country where everyone is devoted and dedicated to its welfare; no external power can stop its growth and development.
The Nation is Foremost: Patriotism is the feeling of responsibility towards our nation. Putting the nation as a foremost responsibility is key to a developed nation.
Common Objective: Patriotism brings a common objective of nation-building among all people in India.
Universal Recognition: Patriotism gives a universal recognition of India among all countries around the world.
Paragraph on Patriotism – 200 Words
Patriotism is a feeling of honesty towards a nation. There are various warriors who have fought for our independence. Chandra Shekhar Azad, Bhagat Singh, Lala Lajpat Rai, M. K. Gandhi, etc. are the legends of Indian history. They sacrificed their own life for providing us a newly independent India.
The soldiers who are serving our nation on Borders and ready to bear any uncertainties for India also gives an example of patriotism. There are many movies based on patriotism. The main motive of such movies is to showcase the feeling of patriotism. For a unified nation, every person should understand the importance of patriotism.
Sadly the patriotism is slowly fading in people. Everyone wants luxurious life and for this, they are engaged in their services. Youths are slowly forgetting their culture and the importance of the nation. With the passage of time, people engrossed themselves in their life. Our freedom fighters worked for giving us a secure future, the same thinking should be followed by each one of us.
Political leaders are following various tactics in the greed of a single vote. They don't care about the people in our society. The greed, selfish motives and self-centered behavior of such people should be changed.
Paragraph on Patriotism – 250 Words
Patriotism is an asset everyone must own it. A country is incomplete without this feeling. The feeling of patriotism must be taught to every child. The young generations are the future of the nation, they should aware of our history and the sacrifices made by our great patriots. Hosting Republic Day events, Independence Day events are not true patriotism but patriotism is a virtue that should be instilled in all.
The social and economic prosperity is connected with the youth generation. This responsibility can only be shared by the understanding of the nation's love and its importance. Being progressive is good but losing our culture in the rush of the fast-growing world should not be encouraged.
Keeping our area and city clean, following all the traffic norms, and not participating in any corruption reflect a person's devotion to his/her nation. A true patriot is laborious and works hard for the growth of his/her country. A person who is ready to bear all the sacrifices for the betterment of his/her country is saluted.
Great Indian spiritual leader Swami Vivekanand has always talked about patriotism and its importance for the nation. He said "Do you love your country? Then come, let us struggle for higher and better things, look not back, no, not even if you see the dearest and nearest cry, look not back, but forward". He also said that "Practical patriotism means not a mere sentiment or even emotion of love of the motherland but a passion to serve our fellow/countrymen".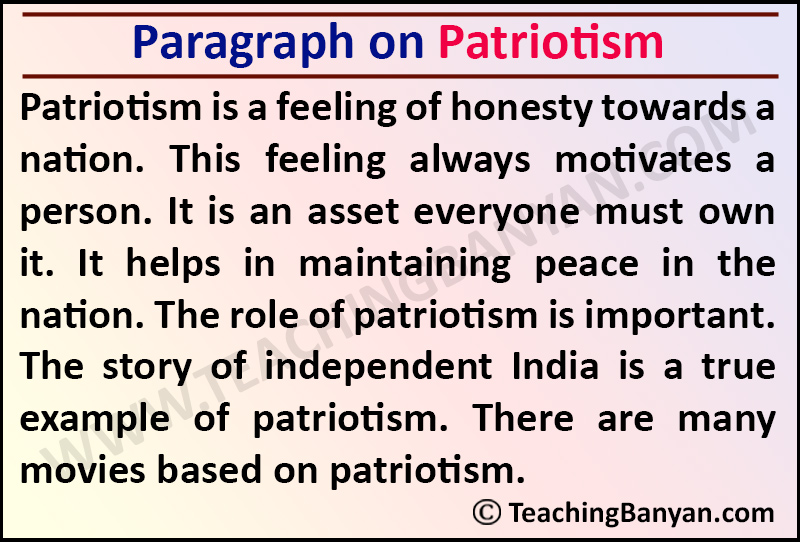 FAQs: Frequently Asked Questions
Q1. What is the meaning of patriotism?
Ans. The sense to respect nation and respecting national symbols is patriotism.
Q2. Who are the patriotic heroes of India?
Ans. Freedom fighters and army soldiers are considered to patriots.
Q3. Name some patriots of India.
Ans. Bhagat Singh, Subhash Chandra Bose, Chandrashekhar Azad are some famous patriots of India.
Q4. What is the history of patriotism?
Ans. Patriotism is considered to be 2000 years old.