The Teacher's Day in India is celebrated every year on the 5th of September. It is a very auspicious event for which children wait eagerly throughout the year. Teacher's Day is dedicated to the teachers of the nation and also the world. Teacher's Day is like an opportunity for us to show our gratitude towards our teachers. On Teacher's Day, we can show our teachers how much we respect them and what place do they have in our lives.
Teacher's Day 2023
India will celebrate its 62nd Teacher's Day on the 5th of September 2023. It will be Sunday, and there is huge excitement among children for celebrating the day with their beloved teachers. Unlike the other years, we are hoping for a cheerful and delighted observation of the event.
History of Teacher's Day in India
Teacher's Day in our country is being celebrated right after the 15 years from the Independence of India. The Teacher's Day is the birth anniversary of Dr. Sarvapalli Radhakrishnan, the second president and the first vice-president of India.
Dr. Sarvapalli Radhakrishnan was born on 5 September 1888 in Madras Presidency of India. He had spent most years of his life in teaching. At the starting of his career, he had served as a professor at Madras Presidency College and the University of Mysore. He has also been a professor at the University of Calcutta. Because of his long career in teaching and proficiency in teaching made him the favourite of all.
He was appointed the second president of India on 14 May 1962. It was like an honour for the student who had studied under him. They all requested him to celebrate his birth anniversary. Since Sarvapalli Radhakrishnan was not in its favour, so he refused their proposal and asked them to celebrate the day as the 'Teacher's Day' instead of his birth anniversary. Since then, 5 September in India is being celebrated as Teacher's Day in honour of all the teachers of the nation.
On Teacher's Day every year, we remember the greatest leader Dr. Sarvapalli Radhakrishnan and thank our teachers for making us so much successful as much we are now.
Celebration/Activities
Teacher's Day is one of the major celebrations in India. It is mainly an enjoyable day for children, especially for those who are students.
On this day, children clean their school and surroundings and also decorate their class. They welcome their teacher in their class and offer them varieties of items like cakes, chocolates, cold drinks, pizzas, etc. They also honour them and deliver some speech dedicating to them and all of their teachers. They also bring many gifts to their teachers. Children also do the same for their coaching and tuition teachers.
There are some events organized in many schools and formal education remains postponed for the day. Children place their stalls in the school campus like bookstall; food stall etc. and teachers visit them and take their service. They also reward them on the basis of their service.
In Schools, Colleges, other educational institutions, and public places, people place a photo of Dr. Sarvapalli Radhakrishnan and worship him. They also deliver some speech in his honour in such a way that can inspire people gathered there. On the day, those who are working abroad or far from their home, visit there and also their childhood schools to meet their teacher as it becomes a great honour to spend time with the old teachers. They also pledge to be a good teacher for their younger one.
Objectives of Celebrating this Event
There are a number of events celebrated in a year, and every event has some reasons to be celebrated on that specific day.
Teacher's Day in India is celebrated in memory of the greatest teacher of such a great nation Dr. Sarvapalli Radhakrishnan. Through celebrating such an auspicious occasion, we pay homage him for his contributions in making India an educated nation. By celebrating Teacher's Day, we teach our children why we should respect our teachers.
Another objective of celebrating such a rewarding day is that, on Teacher's Day, we get a chance to thank our teachers and tell them that how much successful we are because of their hard works in making us a true human being.
Significance
Among all the events in India, Teacher's Day is one and perhaps the most important. It makes us realize that teachers have played a very important role in showing us the true way of living. Teacher's Day tells us that our parents and teachers are the most important in our life. Even there are some times when a teacher plays a more important role than our parents.
As we all know that the Teacher's Day is the birth anniversary of Dr. Sarvapalli Radhakrishnan, it is a great day to remember the greatest teacher of India ever. On Teacher's Day, the respect received by a teacher from his students inspires him to do much better in his profession.
Duties of an Ideal Teacher
Being a teacher is not just a profession but full of many responsibilities. There are many things that a teacher must do in order to become an ideal teacher because only an ideal teacher can contribute most to the growth of his students and serves them selflessly. Some duties of an ideal teacher are as follows:
An ideal teacher should treat all his students equally.
He/she should be selfless in his services.
The ideal teacher should never be biased whatever be the situation.
His/her teachings should never be based on personal profit.
The teacher should adopt all possible means to make learning fun.
Each and every student is the responsibility of a teacher.
The ideal should be in regular contact with the parents.
Apart from theoretical knowledge, he/she should also work on practical and behavioural knowledge.
Duties of Students towards Their Teachers
According to a saying, "The teacher is greater than the god for a student." Children have many responsibilities towards their teachers, which they should perform well. Some of these responsibilities are as follows:
A student should respect all his teachers.
The student should never be biased with his teachers.
He/she should follow every instruction of his teachers.
He/she should have prepared with everything that the teacher has taught.
The student should never disobey his teachers.
Teacher's Day in Other Countries
Teacher's Day is such an auspicious event that is celebrated in almost every country in the world. It shows that the teachers are respected in the world, irrespective of the regional boundaries. The dates of celebrating the occasion may differ from nation to nation. As we have read that Teacher's Day in India is celebrated on 5 September annually. The date of the celebration of this event in some other countries is as follows:
United States – First week of May
United Arab Emirates, Japan, Afghanistan, Sri Lanka – 5 October
Columbia, Mexico – 15 May
China – 10 September
Poland – 14 October
Yemen – 28 February
Syria – 18 March
Indonesia – 25 November
Pakistan – 5 October
Conclusion
Teacher's Day is not only an important event but also a day to show our duties towards our teachers. From our childhood till our death, we come in contact with many people who teach us many useful things. We should be grateful to all of them. Every such person who has ever taught you any useful thing is a teacher and deserves respect. Even the teachers, who have taught many people but not us, also deserve our respect. Every elderly person to us somewhere our teacher, and we should always respect him.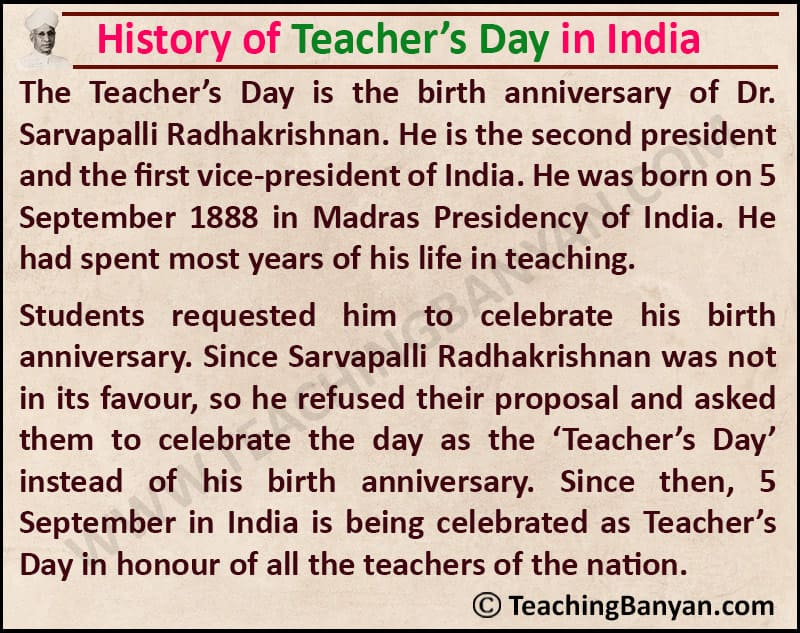 FAQs: Frequently Asked Questions
Q.1 What is the full form of NAT?
Ans. The full form of NAT is National Award to Teachers.
Q.3 Which organization provides World's Best Teacher Award?
Ans. The World's Best Teachers Award is presented by Varkey's Foundation with UNESCO.
Q.4 Since When National Award to Teachers is given?
Ans. The National Award to Teachers is given since 1958.