Lord Krishna was a source of immense knowledge, wisdom, love and he was a fine diplomat. His birth was more than a miracle for society. Janmashtami is celebrated for the birth of Lord Krishna. For knowing more about this grand fest, kindly read the paragraphs mentioned below.
Short and Long Paragraphs on Shri Krishna Janmashtami in English
Paragraph 1 – 100 Words
Janmashtami is one of the important Hindu festivals celebrated for the birth of Lord Krishna. Lord Krishna is the God of tenderness, immense knowledge, and powerful incarnation of Lord Vishnu. Janmashtami is one of the biggest fests of the Hindu religion.
As per Hindu Almanac, Lord Krishna was born on the eighth day of Puranmashi in the Bhadon month. As per the Gregorian calendar, Janmashtami falls in August. Lord Krishna is one of the great Gods of Hinduism. He had played an important role in Mahabharata. The most sacred book of Hindus "Bhagavad Geeta" is based on his sermons of Karma and Bhakti.
Paragraph 2 – 120 Words
Janmashtami or Krishna Janmashtami is one of the major festivals of Hinduism. People celebrate it zeal. Across the nation glimpses of celebration is seen. People decorate their homes and perform Pooja. Lord Krishna is one of the important gods of the Hindu religion. His life teaches us to choose the way of Karma and believe in the eternal power within oneself.
Lord Krishna was born with a special purpose. He was born to Devki and Vasudev. He was born in prison, as Devki and Vasudev were imprisoned by Kansa. On the birth of Lord Krishna, the world witnessed the indications of coming of divine power.
Vasudev gave newborn Krishna to his friend Nand for his safety. Kansa was a cruel evil mined king who wants to kill his own sister's son. For saving Krishna from Kansa, Vasudev gave his son to Nand. Lord Krishna was brought up in by Nand and Yashoda.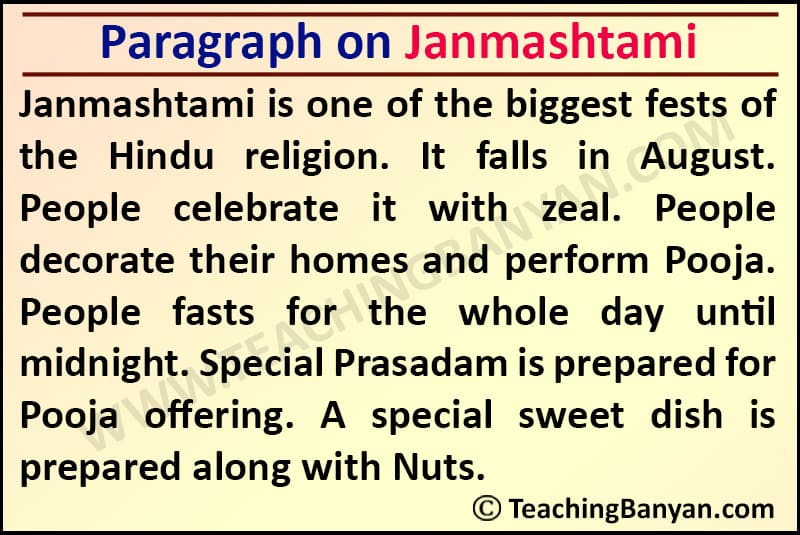 Paragraph 3 – 150 Words
Janmashtami is the biggest festival in the Hindu religion. Lord Krishna's birth anniversary is celebrated as Krishna Janmashtami. His life journey is portrayed in the celebration. Not only in India but in various parts of the world like in Nepal, Mauritius, etc. Janmashtami is celebrated. The ISKON group of Sri Krishna celebrates the Sri Krishna Janmashtami on a very huge level.
People fasts for the whole day until midnight. Special Prasadam is prepared for Pooja offering, it includes fruits, butter, curd, ghee, nuts, and dry fruits. A special sweet dish is prepared along with Nuts.
Sri Krishna Pooja ritual starts on Midnight at 12. People pay floral tribute and Prasadam. They decorate Sri Krishna Palki (Cradle) and put Krishna statue in it and decorate the Palki and statue. The Statue is popularly called as "Ladoo Gopal", generally young Krishna statue is worshipped, and the beauty of the fest is seen in the decorative cradle and Krishna statue. People treat the statue like a new baby and feed it prasadam.
---
Paragraph 4 – 200 Words
Janmashtami is the biggest fest for Lord Krishna Devotees. Vaishnavs or Vaishnav disciples celebrate the fest at a grand level. They devote themselves to Geeta teachings and remind Lord Krishna. There is an interesting fact that the celebration of Sri Krishna Janmashtami is also observed in Prisons, people decorate the prisons and perform Pooja rituals at Midnight. Lord Krishna was born in prison so the Jail decoration and pooja ritual are performed over there too.
One week before the Janmashtami, markets were seen flooded with people. They purchase decorative items and colors for the Jhanki preparation. Iskon, Mathura Vrindavan temples the Janmashtami preparations begin before the arrival of the fest. People visit temples and pray to Lord Krishna for wellness. Some other glimpse from the fest is as following:
Jhanki Decoration: On the eve of Janmashtami people decorate their home and prepare Jhanki. A glimpse of Sri Krishna's life is portrayed with decorative items and colors.
Grand celebration at Sri Krishna Temples: On the eve of Janmashtami, temples are decorated and in Mathura, Vrindavan Raslila programmes are organized. Similarly in Iskon temples across the nation and world grand celebration of Janmashtami can be seen.
Dahi Handi: In Maharashtra and Gujarat Dahi Handi competition is organized. The significance of the Dahi Handi program is related to Sri Krishna Childhood as he was fond of Dahi (curd) milk.
Paragraph 5– 250 Words
Janmashtami is also known as Gokulaashtami. People celebrate it with Pooja rituals, home decorations, etc. Krishna Janmashtami is one of the important fests of Hinduism. People remember the teachings of Lord Krishna and try to follow his way of life. His Geeta teachings are famous worldwide. People attend special Geeta teaching classes for concentration and immense knowledge. Lord Krishna is also called the symbol of love, immense knowledge, and power.
The Janmashtami celebration is one of the major parts of our tradition. Lord Krishna's life was more than a miracle. He was counted as one of the notorious kids in his childhood days; he defeated various evils and set an example for a generation.
Internationally Lord Krishna devotees organize various programmes and special feasts on the occasion of Janmashtami. The lesson of eternal love and bonding is taught. So for showing devotion towards Lord Krishna, Janmashtami is celebrated. Lord Krishna's teachings are still taken as an example and people dedicate them in his prayers.
On social media Janmashtami messages, pictures, Geeta quotes, and Mantras are shared. People wish each other and participate in Janmashtami decoration and Pooja. In temples, Prasad distribution events and Geeta Updesh events are organized. The sound and light shows are also organized in Mathura and Vrindavan temples.
In Puri Jagannath temple, the grand celebration of Janmashtami is observed. The whole country celebrates the holy fest of Janmashtami. In schools and colleges, Janmashtami Jhanki decoration programmes are organized. Students participate in cultural programmes. The portrayal of Krishna's childhood days is often seen in school programmes. Kids also participate in the Janmashtami celebration.
FAQs: Frequently Asked Questions
Q.1 Why is Janmashtami celebrated?
Ans. Janmashtami is celebrated to cherish the birth of Lord Krishna.
Q.2 Other than India which country does celebrate Janmashtami?
Ans. Other than India, Nepal and Mauritius celebrate Janmashtami.
Q.3 Other than Hindus, which religion celebrates Janmashtami?
Ans. Other than Hindus, the Vaishnav religion also celebrates Janmashtami.
Q.4 By what other name Krishna Janmashtami is also known?
Ans. Krishna Janmashtami is also known as 'Gokulashtami' or 'Janmashtami'.