Children's Day is the annual occasion for greeting the best phase of life. Children are the future of a nation, they should be treated best. Children's Day carries the same importance as other national events. For knowing more about this special occasion, we have prepared some of the important paragraphs. Kindly go through it.
Short and Long Paragraphs on Children's Day
Paragraph 1 – 100 Words
Annually Children's Day is celebrated on the 14th of November. It is celebrated for marking the birth anniversary of Pt. Jawaharlal Nehru. He was India's first Prime Minister and was popular as 'Chacha Nehru' among the general public. He always emphasized children's rights, care, and education. In 1964, after Pt. Jawaharlal Nehru's death, the Government of India announced 14 November as Children's Day.
His love and affection for children were true. Children also love him and affectionately called him Chacha. He once said "The children of today will make the India of tomorrow. The way we bring them up will determine the future of the country."
Paragraph 2 – 120 Words
The 14th of November is widely known as Children's Day in India. It tells the importance of children's rights, education, and their care. The day is observed as Birth Anniversary of Pt. Jawaharlal Nehru. Children are tender creatures. Their upbringing is linked with the future of the nation.
The main motto of celebrating children's day is well being of a child. Children from unprivileged sections of society are facing a miserable life, Children's Day also focused on abolishing this unfortunate reality of our nation. Children's Day also works as an appeal for availing the basic rights of children from any section or society of a nation. Across the nation, a glimpse of academic level celebration events is observed on this day.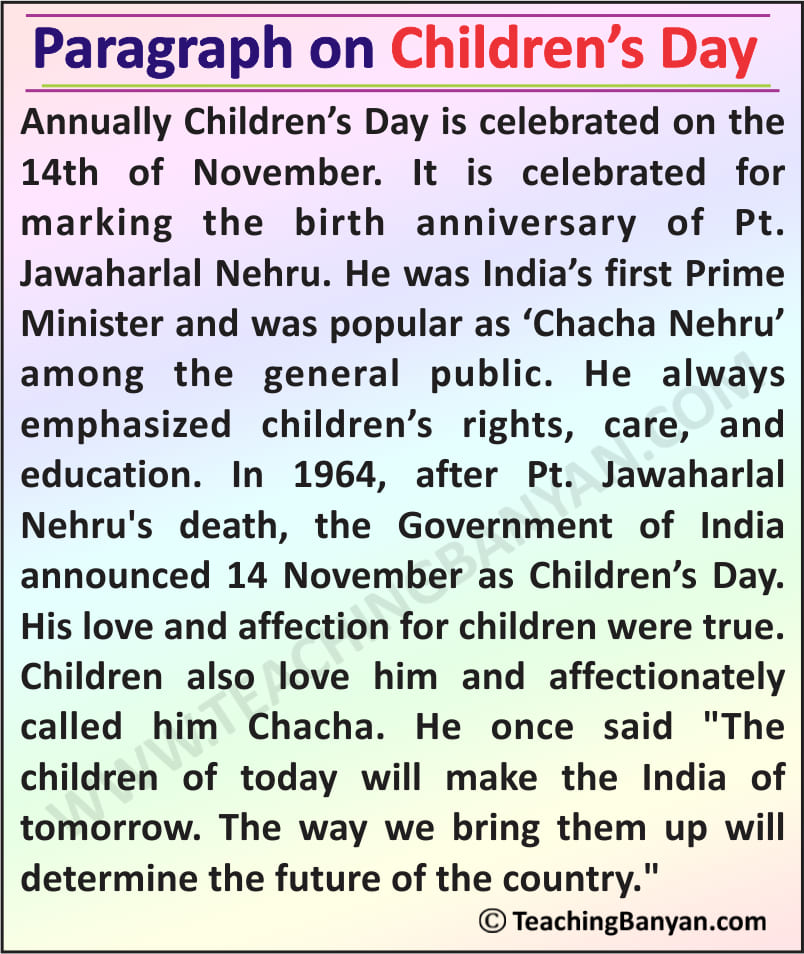 Paragraph 3 – 150 Words
Children's Day is an annual event observed on the 14th of November. Children are the future of a country; their upbringing will be fruitful for the prosperity of anation. Taking care of little ones from harsh scenarios of the world should be the priority of everyone.
Celebration Activities on Children's Day
On the eve of Children's Day, Schools are decorated and children are greeted with small token gifts. Various academic level competitions, sports events, quizzes, fests are the major attraction of the event. The Award ceremony, Gifts distribution, arranging refreshments, lunch-on parties are also observed in schools. Various NGOs distribute food, books, and gifts to the unprivileged children. On the eve of Children's Day, Various government schemes are also launched. Free Education for rural areas and slum areas are offered by the government.
People remind the ideologies of Chacha Nehru and follow their wordings. Political Figures pay their homage to Pt. Jawaharlal Nehru's crematorium and remember his contribution and ideologies for our nation.
Paragraph 4 – 200 Words
Children's Day is widely known annually on 14th November. It is celebrated within the memory of Pandit Jawaharlal Nehru. He was born on 14 November 1889. He was the first Prime Minister of India. People annually pay tribute to him and commemorate Children's Day. Here are some of the facts related to Children' Day:
Children's Day is also known as 'Bal Diwas'.
There is a global event dedicated to children's rights and their proper care called 'Universal Children's Day'.
Universal Children'sDay is widely known on the 20th of November.
In India, Children's Day is the national salute to the first Prime Minister Pt. J. L. Nehru.
Children's Day celebration carries an appeal for protecting childhood from social evils present in our society.
The Message of Children's Day
Children's Day gives the message of love and affection towards the innocence present in a child. It encourages the society to take care of their child as they are future of the nation. Some NGOs especially work for protecting the slum kids; they enroll them in their free schools and bear their all expenses. School-level and other celebration events spread the message of children's love, care, and education. School provides them opportunities to show their hidden talents.
---
Paragraph 4 – 250 Words
Children's Day is celebrated for cherishing childhood. Every year 14th of November is celebrated with zeal. Children across the nation actively participate in school-level activities, they are rewarded for that. In residential areas, people organize small fests for cheering the children of their society. From the continuation of the above paragraph, I would like to elaborate some of the School Level Celebration on Children's Day:
Flower Distribution:On the eve of Children's Day, teachers present roses as a welcome gift to students. The significance of the event is related to Chacha Nehru, as he always wears a rose on his coat. In my school days, we were always excited to receive a bunch of flowers from our teachers; we touch their feet as a respective gesture towards them.
Chief Guest Address: On this day, School authority invites special guests from media or other public personalities.
Cultural Activities: Many cultural activities like dance competition, singing competition, play, fancy dress competitions', etc. are organized in schools. Children actively participate in such events and express their enthusiasm.
Speech Deliberation: Principles and other teachers deliberate their speech and share the glory of Chacha Nehru and his contribution to the upliftment of Children's rights and education.
Sweet Distribution: Sweet Distribution is also one of the common customs organized by every school.
Student-Teacher Competition: In some schools, teachers also took part in sports and other events. They compete with students like in kabaddi or cricket competition. These activities organized for maintaining student-teacher bonding.
Slow Cycle Race and Musical Chair Competitions: Some fun activities like slow-cycle competition and musical chair competition are also organized in some schools.
FAQs: Frequently Asked Questions
Q1. Whose birthday is on Children's Day?
Ans. Jawaharlal Nehru's birthday falls on children day.
Q2. Why JL Nehru's birthday is celebrated as children's day?
Ans. JL Nehru loved children and that's why his birthday is marked as children's day.
Q3. What JL Nehru did for children?
Ans. JL Nehru advocated children's education and welfare.
Q4. When is World Children's Day celebrated?
Ans. Children's Day globally celebrated on 20th November.